Dannon Says It's Dropping NFL's Cam Newton After Sexist Remark
By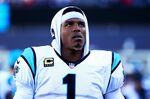 Dannon says it's cutting ties with Cam Newton after the NFL quarterback made a sexist remark to a female reporter at a press conference.
The yogurt maker, part of France's Danone SA, said it would no longer work with Newton on its Oikos brand of Greek yogurt. The Carolina Panthers star has served as a pitchman for the product since 2015.
"It's simply not OK to belittle anyone based on gender," the company said in a statement. "We have shared our concerns with Cam and will no longer work with him."
The outcry stemmed from a comment made by Newton after a journalist's question. She asked about routes -- that patterns that football receivers use to catch passes from quarterbacks -- and he responded that it was "funny" to hear a female reporter ask the question.
— With assistance by Eben Novy-Williams, and Scott Soshnick
Before it's here, it's on the Bloomberg Terminal.
LEARN MORE