Conservatives May Demand Spending Cuts to Pass Hurricane Relief
By and
Republican Study Committee head will oppose bill without cuts

'Tell him to go whistle Dixie,' said one House Democrat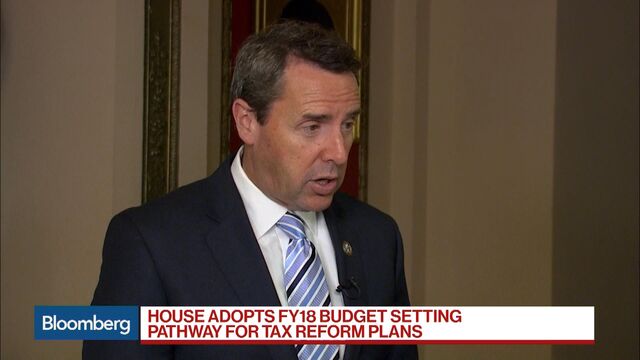 The leader of a large group of House conservatives is gearing up for a fight to demand spending cuts in return for passing President Donald Trump's request for $29 billion in hurricane aid.
Republican Study Committee Chairman Mark Walker of North Carolina will vote against the next round of hurricane relief funds -- which would address storms that hit Texas, Florida and Puerto Rico -- if Congress doesn't offset the cost by cutting other spending, spokesman Alexei Woltornist said Thursday.
It's unclear how many of the more than 150 members of the RSC will go along with him, but it could complicate the path to passing a relief bill, particularly if the more conservative House Freedom Caucus makes similar demands. 
So far, RSC members from Florida and Texas said Thursday they weren't ready to back Walker, and the head of the House Freedom Caucus isn't demanding offsetting cuts yet.
"Certainly I would love to have offsets but I don't know that is a position that can be maintained," said Mark Meadows of North Carolina.
Other House Republicans said they were sympathetic to the push to cut spending, but also worried about slowing down the delivery of aid.
"It's a lot of money -- and we don't know how much money," said Representative Roger Williams of Texas. "I think it is probably something you gotta look at. We're dealing with so much money here, and we're in big debt."
But he didn't rule out backing a bill without offsets. "We've got people hurting, too. I mean, I live in Texas, so I want to look at it," he said.
Added Representative Dennis Ross of Florida, "I would support an amendment to offset some costs, but that aid needs to go through either way."
"We've got to get aid to these people quickly," said Representative Hal Rogers of Kentucky, the former chairman of the House Appropriations Committee, adding that including spending cuts "would be complicated." 
Democrats immediately rejected Walker's demand. "Tell him to go whistle Dixie," said Rosa DeLauro of Connecticut. "They don't want offsets for trillions in tax cuts for the wealthy and people are begging for help."
Before it's here, it's on the Bloomberg Terminal.
LEARN MORE