Bump-Fire Stock Prices Double, Thanks to the NRA
Breaking with tradition, the firearms lobby comes out in favor of regulation for a device that helped kill 59 people in Las Vegas.
By and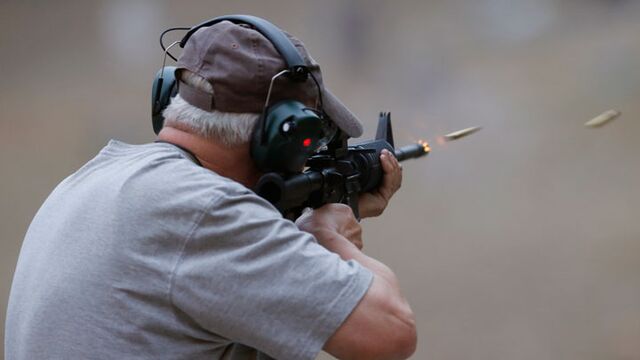 Bump-fire stocks experienced a further boost in prices after the National Rifle Association announced that the devices, which allow semi-automatic weapons to fire as if they were automatic, should be subject to more stringent federal regulation. A dozen bump stocks were found in the hotel room of Stephen Craig Paddock, who allegedly killed almost 60 people and injured more than 500 others when he opened fire on the Route 91 Harvest concert in Las Vegas Sunday night. Paddock was perched in a 32nd floor hotel room at the Mandalay Bay Resort overlooking the event, police said. He was killed when officers burst into his room.
Concern that bump stocks would be outlawed spurred gun enthusiasts to flood retailer websites and secondary markets, much the way traditional gun sales often rise following massacres. On GunBroker.com, a firearms auction platform, prices for bump stocks were at double and triple the retail cost. 

When reached by phone Thursday afternoon, a representative for Cracker Boys Outdoors Inc., a Florida gun shop that also sells items on Gun Broker, said prices for bump-fire stocks shot up in just the past 24 hours. The store has already sold out. The SSAK-47 bump stock from manufacturer Slide Fire was sold out on a variety of secondary retail websites, including Cheaper Than Dirt, Atlantic Firearms and Sportsman's Guide. 
The rush to buy bump stocks started Wednesday, when gun enthusiasts expressed concern on social media that bump stocks would either sell out or become illegal after the Bureau of Alcohol, Tobacco, Firearms, and Explosives linked them to the Las Vegas attack. The second rush came Thursday, after the NRA broke from tradition and announced it would condone bump stock regulation, saying "devices designed to allow semi-automatic rifles to function like fully-automatic rifles should be subject to additional regulations."
While a semi-automatic weapon releases one round of ammunition per trigger pull, a bump-fire stock makes the process faster, therefore spraying more bullets. This mimics the fire rate of an automatic weapon, though a 2010 letter from the ATF states that "the stock has no automatically functioning mechanical parts or springs and performs no automatic mechanical function when installed." This distinction is a key one, as it makes bump fire stocks arguably legal under existing federal statute.

Politicians have condemned the use of bump-fire stocks since the mass shooting in Las Vegas. Senator Dianne Feinstein of California, a Democrat, introduced a bill on Wednesday to outlaw bump stocks. She said the devices took advantage of a "loophole" that must be closed.
"This is the least we should do in the wake of the deadliest mass shooting in U.S. history," she said prior to the bill's introduction. "It should be our highest priority."
Before it's here, it's on the Bloomberg Terminal.
LEARN MORE