BOE's New Rate Setters Finally Get Date for Lawmaker Grilling
By and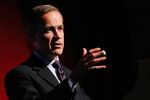 U.K. lawmakers have finally set a date to grill the Bank of England interest-rate setting committee's newest members. With speculation mounting that November could see the central bank's first increase in over a decade, it's in the nick of time.
Parliament's Treasury Committee is set to question the newly appointed Deputy Governor for Markets and Banking Dave Ramsden and external Monetary Policy Committee member Silvana Tenreyro, alongside Governor Mark Carney, on Oct. 17. That's just a week before they go into their quiet period for the crucial Nov. 2 meeting and almost eight months since any BOE policy maker has faced the group.

This year's surprise election, the subsequent summer recess and the need to select a new Treasury Committee chair have meant that Carney and his colleagues have not yet been asked to testify before politicians. That's the usual procedure when new MPC members are appointed, and after the quarterly Inflation Reports. That absence is particularly notable given the shift in the BOE's policy outlook since February.
The delay is also notable given the Treasury Committee's instrumental role earlier this year in the resignation of Charlotte Hogg, who stepped down as deputy governor after drawing their censure. At the time the group complained that the short period allowed for it to assess her suitability for the role between her appointment and start date was "highly unsatisfactory."
By contrast, Tenreyro has been in her position at the bank for more than three months already, Ramsden for one, and both have already voted on policy.
The hearing will also mark the end of a respite for Carney, who, having been summoned by U.K. lawmakers more than 30 times since his appointment, has testified before Parliament more than any other previous governor.
Still, his occasionally tempestuous relationship with the committee may be about to become calmer, as Jacob Rees-Mogg and Steve Baker, two lawmakers who particularly clashed with Carney, have moved on to the Brexit committee. The panel also has a new head in the form of passionate 'Remain' campaigner Nicky Morgan.
Before it's here, it's on the Bloomberg Terminal.
LEARN MORE