Business
Adidas Brings the Fast Shoe Revolution One Step Closer
The company's "Speedfactories" can cut the time from sketch to shelf by months.
By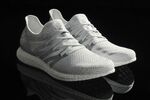 In a production hall as clean as a hospital, pea-size beads of white plastic pour into what looks like a minivan-size Adidas shoe box, complete with three white stripes down the side. That's fitting, because in just a few seconds the machine heats and molds the stuff into soles of Adidas running shoes, with only one worker needed to wedge in pieces of plastic called stability bars. This is Adidas AG's "Speedfactory," where the shoemaker aims to prove it can profitably produce footwear in high-cost, developed economies. By next fall the facility, as large as half a soccer field, will employ about 160 people to make 1,500 pairs of shoes a day, or 500,000 annually.
The plant, halfway between Munich and Frankfurt, and a twin opening this fall near Atlanta, will be key to Adidas's effort to catch industry leader Nike Inc. It replaces manual stitching and gluing with molding and bonding done by machines, churning out running shoes in a day, vs. two or three months in China and Vietnam, where components are shuttled among suppliers that produce individual parts. "In the history of sneaker making, this is probably the biggest revolution since manufacturing moved to Asia," James Carnes, a 23-year Adidas veteran responsible for company strategy, says as he tours the plant. "Or maybe since sport shoes were made."

The factories take a page from fast-fashion pioneers Zara and H&M, part of an effort by Adidas to more quickly get shoes, soccer jerseys, and other goods from designers' sketchbooks to store shelves. Adidas says coupling speed with customization will allow it to sell more gear at full price and keep customers from defecting to rivals. It used a prototype of the Speedfactory to manufacture a running shoe called "Futurecraft Made for Germany," a big hit a year ago, with buyers camping outside stores to get one of just 500 pairs at €249 ($293) apiece.
Adidas is betting it can repeat the hype with similar city-themed shoes to be made at the two Speedfactories: London and Paris this fall, and New York, Los Angeles, Tokyo, and Shanghai next year. Each version, planned in batches of several thousand pairs, features attributes Adidas says are tailored to the needs of a city's runners. "AM4LDN adidas Made For London" will have reflectors and beefed up waterproofing for jogging in the dark and rain, the Los Angeles model is designed for hotter weather, and the Shanghai variant will be adapted for indoor tracks popular there. In each instance, the shoes are designed to be made by machines, not by hand, and Adidas gains the added benefit of keeping the latest trends and ideas in-house rather than sharing them with suppliers. "Our industry is extremely competitive, so new things have an enormous value," says Gerd Manz, who oversees technology innovation at Adidas. "Our goal is to use this as a launching ground for innovation."

Adidas's rivals are pursuing similar strategies, with Nike investing in a company making electrical adhesion machines that can assemble the upper part of a shoe 20 times faster than a human worker can. New Balance Athletics Inc. and Under Armour Inc. have started 3D-printing parts of the soles of some shoes. And Feetz Inc., based in San Diego, says it can 3D-print custom shoes for buyers who send in photos of their feet.
Athletics brands today are mostly design and marketing machines that leave the stitching and gluing to subcontractors. Adidas hasn't owned any big factories since the 1990s, but its suppliers employ more than 1 million people at 1,000-plus facilities in 63 countries. While the company is developing the technology used in the Speedfactories, the plants will be owned and operated by Germany's Oechsler AG, an exclusive Adidas supplier.
The Speedfactories won't necessarily mean fewer jobs at Adidas's suppliers. With the company's projected 10 percent to 12 percent annual growth rate requiring an additional 40 million pairs of shoes annually through 2020, the contribution of the automated plants will be negligible. But, if they prove successful, Adidas may add more or expand capacity to 2.5 million pairs a year at each of the current factories. It's also considering offering the technology and processes to subcontractors so they can boost automation as wages rise. "The framework in Germany today, the social, environmental, legal requirements, are just what we will also see in our sourcing countries in a few years," Manz says. "We'll be prepared."
BOTTOM LINE -
As Adidas seeks to catch Nike, it's shifting some production from Asia to automated factories that can quickly produce small-batch designs for specific markets.
Before it's here, it's on the Bloomberg Terminal.
LEARN MORE