Finance
A Lot of Apple's Overseas Cash Is Already in the U.S.
Companies don't have to avoid U.S. markets to steer clear of U.S. taxes.
By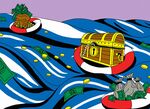 Donald Trump and congressional leaders' latest plan for tax cuts is missing a lot of important details, but in a speech on Sept. 27 the president pointed to one clear objective: to get U.S. multinationals to bring some of the money they've stashed abroad back to the U.S. so "it can be put to work and work and work." The plan would give companies a lower rate on built-up earnings—perhaps 10 percent rather than the current 35 percent—which they'd have to pay regardless of whether they repatriate money. Right now the money isn't taxed unless it's brought home.
Not that it's necessarily so far away. While a tax accountant might label the cash foreign, a lot of it is already deployed in the U.S. economy. Corporations have collectively amassed trillions of dollars in overseas profits, but much of that money has been invested in securities such as U.S. Treasuries and corporate bonds. "Just because money is technically outside the U.S. doesn't mean it can't be used in the U.S.," says Megan Greene, chief economist for Manulife Asset Management Ltd.
Apple Inc.'s latest quarterly report makes that clear. Of its $261 billion in cash and marketable securities, it attributed the vast majority—$246 billion—to its foreign subsidiaries. About $58 billion of the total was invested in Treasuries and U.S. agency securities such as those backed by Fannie Mae and Freddie Mac. An additional $150 billion was invested in corporate bonds. Apple doesn't detail the companies that issue the bonds but says it generally invests in dollar-denominated assets with maturities of less than five years.
Of course, it's one thing for giant companies to buy bonds. What politicians and voters really hope to see is companies pouring money directly into building factories and hiring more workers. But taxes on overseas cash don't seem to be the main barrier to that. "Any firm that wants to invest can just do it anyway," says Gary Hufbauer, a tax and trade expert at Washington's Peterson Institute for International Economics, because companies can borrow—currently at very low interest rates. The government last tried a repatriation deal in 2004, hoping a tax break would encourage corporations to turn foreign cash into U.S. investment. It required companies that took the voluntary deal to create a reinvestment plan and ruled out using the money on share buybacks, dividends, or other uses that weren't seen as helpful in creating jobs. Since companies can move money around internally, that proved hard to enforce. Academic studies found that most of the money ended up being paid to shareholders.
A bigger question about repatriation is the impact on federal revenue. "This one-time tax means getting a small percentage of something, instead of nothing," says Michael Faulkender, a professor of finance at the University of Maryland. It also means the government gives up on the higher taxes it might have collected had the companies not been able to keep the money overseas. Or at least in U.S. securities held on their overseas books.
BOTTOM LINE -
Apple's foreign subsidiaries hold hundreds of billions of dollars in cash and securities, and much of it is invested in the U.S. bond market.
Before it's here, it's on the Bloomberg Terminal.
LEARN MORE