Spain's on Edge Over Catalonia's Rebellion — So Are Investors
By
Spanish stocks fall, yields rise as traders assess scenarios

Some see prospect of slow-burning period of instability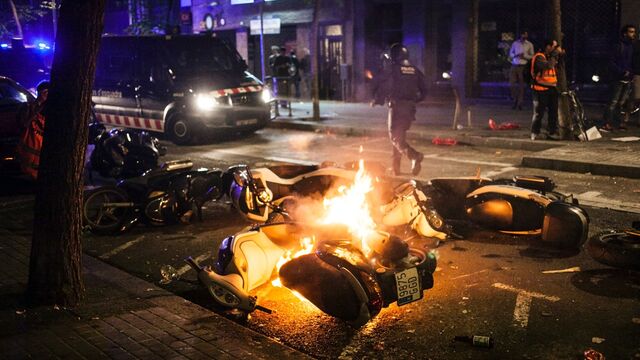 As Spain confronts its Catalonian rebellion, investors are staring down a decision on whether to bet on a peaceful resolution to the secession upheaval or prepare for the consequences if the region splits off.
For some, it's reminiscent of the early stages of the euro-zone debt crisis, when investors found themselves reading up on the ins and outs of Greek politics and EU treaty articles to gauge the probability of a political and economic shake-up and its likely effects.
"The answer of politicians is key," said Charles St-Arnaud, an investment strategist at Lombard Odier Asset Management in London. "The separatist movement has avoided calling independence, so that's putting the market in a wait-and-see mode."

Or maybe not. Markets are beginning to show the strain after initially responding with resilience even as circumstances appeared to worsen in the three days since the federal government cracked down on the illegal independence vote. Yields on Catalonia's bonds due February 2020 jumped on Wednesday, widening the premium over comparable Spanish government bonds to the most in a year.
Some analysts are warning of the prospect of another slow-burning bout of instability as the situation unfolds. The benchmark IBEX 35 stock index is down 3.3 percent this week. Contracts that insure against sovereign-bond default have risen each day this week, and Spanish 10-year bond yields have widened relative to those of Germany. 
Meanwhile the euro has fallen since the weekend, though it has pared its decline. The European Commission has rejected Catalan President Carles Puigdemont's invitation to step in and mediate, and made it clear that an independent Catalonia would be outside the EU and its financial system would be shut off from ECB funding.
Buying Opportunities
Spanish credit default swaps and yield spreads increased after King Felipe VI on Tuesday told separatists that their "unacceptable disloyalty" has no place in any democratic state, vowing to keep Spain together.
For Natixis strategist Sylvain Goyon, the relatively muted moves earlier in the week indicated the referendum had been priced into markets and that dips would present buying opportunities, particularly for equities. He expects a negotiated solution to the crisis in the medium term, with a move toward a federal system of governing likely.
"All the lights are green for Spain's big caps," Goyon wrote in a note to clients Tuesday, saying the economy is solid and the euro is becoming a tailwind again.
Other investors were less confident after seeing signs of escalating turmoil. At least 500 Spanish police officers were driven out of their hotels by angry locals Monday night as separatists pushed back against state forces. On Tuesday, protesters shut down highways across the region and taunted Civil Guard officers in Barcelona.
"The resolve of regional officials in Catalonia to announce independence from Spain has caught markets off guard," Jasper Lawler, head of research at London Capital Group, wrote in a note Wednesday.
— With assistance by Cecile Gutscher
Before it's here, it's on the Bloomberg Terminal.
LEARN MORE