Why Do I Put Myself Through This, Beleaguered May Asks Herself
By and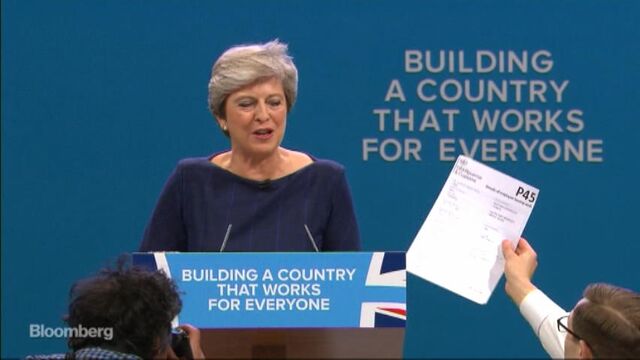 She's lost her parliamentary majority, her cabinet is squabbling over Brexit -- and a heckler at the Tory party conference handed her a notice to quit.
"People ask me why I put myself through it -- the long hours, the pressure, the criticism and insults that inevitably go with the job," Theresa May had just told the Tory party faithful in Manchester. "I tell them this: I do it to root out injustice and to give everyone in our country a voice."
She went into a lengthy explanation of her efforts to tackle child sexual abuse, help ethnic minorities overcome discrimination and tackle the stigma suffered by those suffering mental-health problems. Eight issues in all: "That's what I'm in this for," she said every time.

Minutes later, a protester was able to approach the lectern and he handed her a pretend P45 -- the document employees are given in the U.K. when they're fired. He was escorted from the hall by security men, but after a stirring ovation from her supporters, the woman sometimes dubbed the "Maybot" for her robotic delivery was able to turn the situation to her advantage with a rare unscripted jibe at the leader of the opposition Labour Party.
"I was about to talk about somebody I'd like to give a P45 to, and that's Jeremy Corbyn," she said.
Then things started to go wrong again. The throatiness that's been dogging May all week turned to a recurrent cough, and her voice wavered as she plowed on with her speech. No wonder she asks herself why she does it.
Before it's here, it's on the Bloomberg Terminal.
LEARN MORE