Trump Consoles Las Vegas Survivors as Gun-Control Debate Returns
By
President travels to Nevada after massacre that killed 59

Little movement for gun restrictions in Republican Congress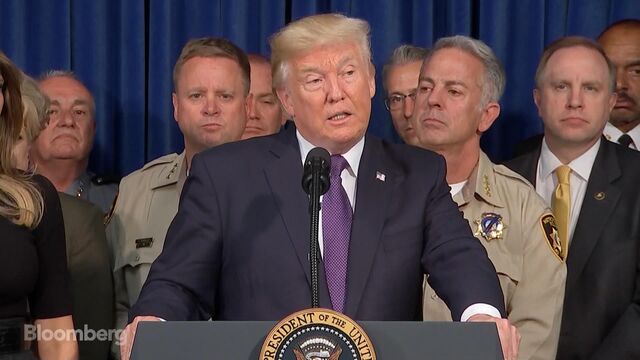 President Donald Trump offered words of consolation to survivors of a gunman's rampage and praise for the emergency workers who responded as he navigated recurring questions of whether restrictions on firearms can prevent another tragedy.
The president met privately with victims of the Las Vegas massacre still under treatment at the city's University Medical Center, describing them as "absolutely terribly wounded." He commended the "tremendous bravery" of emergency workers who responded as the shooting spree continued.
In a short speech at the city's police headquarters, Trump said the people of Nevada and Las Vegas "have shown the world their incredible character, courage and resolve."
But he gave no sign of being ready to address the subject of gun control. When asked about calls for stricter limits on firearms, Trump responded, "We're not going to talk about that today."
Trump arrived in Las Vegas shortly after 9:30 a.m. local time in the aftermath of the massacre Sunday evening. At least 59 people were killed and more than 500 people were injured by a man who used an arsenal of rifles in a rapid-fire attack on a country music festival along the city's entertainment strip.
The gunman, identified by police as Stephen Paddock, a 64-year-old retiree, killed himself as a SWAT team converged on his perch inside a 32nd-floor suite at the Mandalay Bay Resort and Casino. The size and lethality of Paddock's arsenal -- 42 rifles and handguns, including some reportedly modified to fire like a fully automatic weapon -- has reignited the debate over whether the U.S. needs to restrict gun ownership.
Public Attitudes
A majority of Americans favor some restrictions on gun sales, including expanded background checks, banning assault-style weapons and high-capacity magazines, and creating a federal database to track purchases, according to a survey conducted last spring by the Pew Research Center.
But Republicans in Congress have moved to relax gun laws in recent years rather than tighten them. After House Majority Whip Steve Scalise was critically injured in a shooting at a congressional baseball practice in June, Republicans said it didn't show new gun laws were needed. Some suggested lawmakers should arm themselves instead.
Senate Republican leader Mitch McConnell told reporters Tuesday that "it's premature to be discussing legislative solutions, if there are any."
One small impact of Sunday night's massacre: A bill that would ease the purchase of silencers was temporarily shelved in the House. Critics say the devices, which muffle the sound of gunshots, could make mass shootings even deadlier.
Small Cracks
But there were at least some cracks in the otherwise solid Republican wall of opposition to gun control. Several Republican senators suggested they would consider legislation to restrict devices, available at gun shops and some sporting goods stores, that allow a semi-automatic rifle to mimic the rapid-fire of an automatic weapon.
At least one of the weapons Paddock used was equipped with such a device, known as a bump stock.
John Thune of South Dakota, the party's third-ranking member in the Senate, said Tuesday that "to turn semi-automatic weapons into virtually automatic weapons, you know, that's something I think we'll take a look at."
Senator John Cornyn on Texas, the No. 2 Republican leader, followed suit on Wednesday, saying he's open to considering whether Congress should restrict the devices.
"It seems odd that it's illegal to convert a semi-automatic to an automatic, and it's illegal to buy or hold an automatic weapon without the appropriate license, that then you could just modify how many times a weapon can shoot by using something you can buy legally," Cornyn of Texas told reporters in Washington. "So I think it bears our review and a hearing would be the best way to do that."
Legislation Introduced
Senator Orrin Hatch, the Utah Republican, told reporters he's "not against trying to do something" on the issue.
Senator Ron Johnson, a Wisconsin Republican, said he would back a ban on bump stocks. "Automatic weapons are already illegal. To me it's part of the same process," he said. "So I'm OK with that."
Democrats, including Senator Dianne Feinstein of California, introduced legislation on Wednesday banning aftermarket products designed to allow more rapid firing.
Selling and manufacturing automatic weapons has been illegal since 1986, and weapons purchased before then are regulated by the federal government. Products to modify semi-automatic firearms are legal.
The shooting prompted Caleb Keeter, one of the musicians who played at the music festival earlier on the day of the shooting, to change his mind on gun control.
"I've been a proponent of the 2nd amendment my entire life. Until the events of last night. I cannot express how wrong I was," Keeter, a guitarist in the Josh Abbott Band, wrote in a post on Twitter. "We need gun control RIGHT. NOW."
Insufficient Symbolism
Democrats in Congress and gun-control advocates said symbolic statements and actions are insufficient to solve the problem. They're using the shooting to make a renewed push for legislation requiring broader background checks for gun buyers and other restrictions on firearms.
"How did this monster acquire the arsenal he used to rain down death on a crowd of innocents?" Democratic Senate leader Chuck Schumer said on the Senate floor Monday. "We'll have to reckon with the fact that this man was able to assemble an arsenal of military-grade weapons."
The National Rifle Association, the nation's biggest lobby for gun owners and manufacturers, has opposed tougher background checks, limits on semi-automatic weapons and other firearm restrictions. Former President Barack Obama advocated such measures after 20 children and six adults were gunned down inside an elementary school in Newtown, Connecticut, in 2012. But the legislation failed.
The NRA spent more than $50 million to boost Trump and other Republicans during the 2016 election, according to the Center for Responsive Politics.
Trump, who was endorsed by the NRA, has pledged to be a stalwart supporter of gun owners during his presidency.
"The eight-year assault on your Second Amendment freedoms has come to a crashing end," Trump said in an April address to the NRA's annual convention in Atlanta. "You have a true friend and champion in the White House."
Trump's former chief strategist, Steve Bannon, told Axios that any move by Trump to soften his campaign stance on gun rights "will be the end of everything." The voters who backed him feel more strongly about the issue than any other, Bannon said via text, according to Axios.
— With assistance by Jennifer Epstein, Steven T. Dennis, Laura Litvan, Terrence Dopp, and Justin Sink
Before it's here, it's on the Bloomberg Terminal.
LEARN MORE