Secessionists Can't Speak for All Catalans in Clash With Spain
By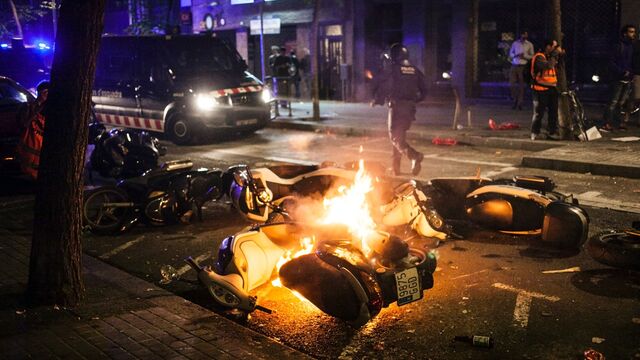 The illegal nature of Catalonia's vote on independence means Carles Puigdemont won't be speaking for everyone in the region when he addresses them tonight.
Catalan President Puigdemont will make a televised address at 9 p.m. on Wednesday following a makeshift independence referendum on Oct. 1. He says the vote, conducted in the teeth of a violence-marred police operation seeking to prevent it from happening, gives Catalonia the right to become a republic.
The regional government said about 90 percent of the 2.3 million people who allegedly cast a vote in the referendum did so in favor of independence. The central government of Spanish Prime Minister Mariano Rajoy denies that anything resembling a referendum with democratic guarantees took place because it lacked certified voter lists and wasn't overseen by an official election board.
Read more: Catalans Vow to Pursue an Independent State as EU Backs Madrid
"Madrid says it's not possible to show reliable figures," said Caroline Gray, a lecturer in politics and Spanish at Aston University in the U.K. "It certainly wasn't done in the normal way for a referendum."
After Spain's King Felipe VI waded into the constitutional crisis in a TV address last night in which he attacked separatist leaders for their "unacceptable" disloyalty, the European Union lined up behind Spain.
Frans Timmermans, first vice-president of the European Commission, told the European Parliament on Wednesday that Catalonia had "chosen to ignore the law" when organizing the referendum and that it's the duty of the government to uphold it.
The Catalan government responded defiantly to the king's comments on Wednesday. Spokesman Jordi Turull described King Felipe's intervention as a gravely irresponsible act that "puts more logs on the fire."
Before it's here, it's on the Bloomberg Terminal.
LEARN MORE