Democrats Urging Puerto Rico Debt Deal as Part of Recovery
By
Schumer says disaster a chance to debate wider debt crisis

Trump comments on wiping out island's debt create confusion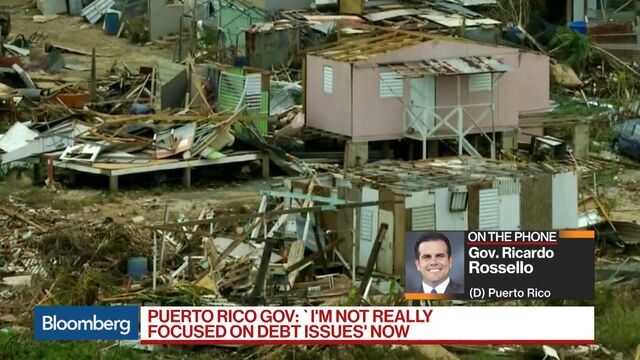 Democrats are urging the White House and Congress to use the rebuilding of Puerto Rico after Hurricane Maria to address the U.S. territory's broader debt crisis.
Senator Chuck Schumer, the party's leader in the Senate, said Puerto Rico needs a "fair solution" to deal with the $74 billion debt load it had before the storm ripped up the island's infrastructure, leaving most of its 3.4 million residents without power or running water.
"Now, maybe the horrible, horrible devastation that has been caused to Puerto Rico will make our colleagues understand that we have to need a far fairer solution to Puerto Rico's problems," Schumer of New York told reporters Wednesday in Washington.
Schumer's House counterpart, Representative Nancy Pelosi of California, also joined calls for the Treasury Department to extend a loan to help Puerto Rico in the short term, as the administration and Congress seek to aid the U.S. territory in rebuilding. 
As part of that assistance, the White House Wednesday evening sent Congress a request for a $12.8 billion addition to the federal disaster relief fund, which will fund recovery efforts in Puerto Rico, and in Texas and Florida, which were hit by two earlier hurricanes.
Democrats were handed an opening to press the issue of Puerto Rico's debt after President Donald Trump suggested it would have to be erased as the island recovers. "They owe a lot of money to your friends on Wall Street," Trump said in an interview broadcast Tuesday night on Fox News. "We're going to have to wipe that out. That's going to have to be -- you know, you can say goodbye to that."
More: Can Trump Rescue Puerto Rico From Its Debt Woes?
As the territory's bonds plunged to a record low on Wednesday, White House budget chief, Mick Mulvaney said the president's words shouldn't be taken literally.
"I think what you heard the president say is that Puerto Rico is going to have to figure out a way to solve its debt problem," Mulvaney said in an interview. "We are not going to pay off those debts. We are not going to bail out those bond holders."
Isaac Boltansky, an analyst at Compass Point Research & Trading, said in a note that "threats to wipe out bondholders appear more bombastic than actionable." He said the president's comments will "weaken bondholders" in continuing discussions over the island's debts.
In San Juan on Wednesday, Governor Ricardo Rossello dismissed Trump's remarks and said Puerto Rico will resolve its debt through the bankruptcy process.
Defaulting on Debts
Puerto Rico began defaulting on its $74 billion in debts two years ago, seeking to avoid Draconian budget cuts officials said would deal another blow to an already shrinking economy. With almost half of its residents living in poverty, the government sought to restructure its debt load, the largest such process in this history of the U.S. municipal bond market. The island's debt-service payments haven been on hold while it restructures its obligations in court.
Even before the storm, Puerto Rico said it could only pay a fraction of what it owed its creditors. The island's fiscal plan, approved by a federally appointed oversight board with broad control over the commonwealth's finances, allocated an average of about $800 million annually to bondholders over the next decade of the more $3 billion owed each year. 
Hurricane Maria's devastation of the island casts doubt that it will be able to afford that in the near term, given that government funds will likely be spent on recovery efforts, as well as the disruption to tax collection. The island is facing a massive rebuilding effort, which the oversight board said could cost $95 billion, roughly 150 percent of its economy.
'Suspend, Waive or Delay'
Amid the fiscal crisis, several Democrats seized on Trump's remarks.
"Everything needs to be suspended, there needs to be loan forgiveness, including and or suspension of any repayment," said Representative Raul Grijalva of Arizona, the top Democrat on the Natural Resources Committee, which has jurisdiction on Puerto Rican debt. "The rebuilding is going to require we look at the fiscal demands on Puerto Rico. We need to suspend, waive or delay" debt payments.
Representative Nydia Velazquez of New York said Trump's statement shows he "understands that the public debt is a big impediment to Puerto Rico on track to economic recovery."
Republican Rob Bishop of Utah, chairman of the Natural Resources panel, said he plans oversight hearings on the island's debt "at the appropriate time."
Republican Senator Marco Rubio, a Florida Republican, said lawmakers need to consider action on Puerto Rico's debt and examine how to help the economy.
"We were already in a position where we need to do more to help Puerto Rico overcome its financial challenges," he said. "The need for that is heightened by recent events."
Mulvaney asked Congress to act on its disaster funding request, which also includes $16 billion for the federal flood insurance program, "as expeditiously as possible." The Trump budget director said he would soon issue a memo asking federal departments and agencies to identify additional funding they might need in the next fiscal year to address longer-term recovery efforts.
House Speaker Paul Ryan said in a statement that in the aftermath of "the worst hurricane season in recent memory" that "more is clearly needed."
Pelosi urged the Treasury Department to provide loans to Puerto Rico as it rebuilds.
"We would like to see the Treasury lend them money, like when they lent the District of Columbia money to get them through," Pelosi said in an interview. "Then we can talk about how they have met their deficit goals, their fiscal goals."
— With assistance by Laura Litvan, Ari Natter, Rebecca Spalding, and Justin Sink
Before it's here, it's on the Bloomberg Terminal.
LEARN MORE