Puerto Rico Needs More Fiscal Flexibility, Governor Says
By
Rossello says that 'right now we're in emergency mode'

His focus in Congress will be concentration on an aid package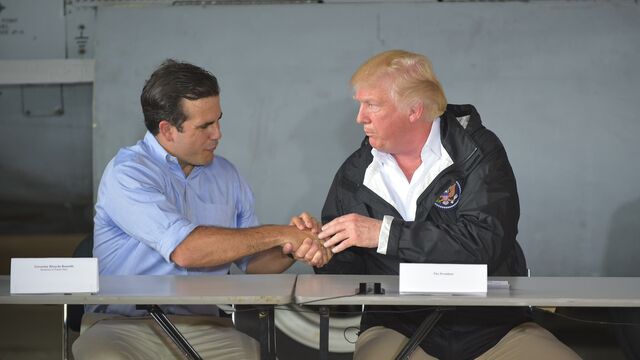 Puerto Rico Governor Ricardo Rossello said the island needs increased fiscal flexibility to rebuild in the aftermath of Hurricane Maria.
In an interview Wednesday, he said the changes could take the form of congressional action or be carried out directly through the will of the fiscal control board. The board was created as part of the sweeping bankruptcy and fiscal responsibility law, known as Promesa, that was enacted to allow the commonwealth to restructure its $74 billion in debt.
"The fact of the matter is that right now we're in emergency mode and in the rebuilding phase we're going to have to take charge to make sure that things move forward," said Rossello, who was sweating and had bloodshot eyes, two weeks into the disaster recovery effort. "I would also say that my focus in Congress would be the aid package."
Puerto Rico is going to need massive amounts of funding to rebuild its battered energy grid and repair roads that crumbled during the storm. But it's hamstrung by the fiscal austerity board that lords over the government pocketbook.
The storm brought down 80 percent of power transmission lines on the island, leaving most Puerto Ricans in the dark. Close to half of the island is still without water and sewage services. Entire roads have collapsed, and the governor said "conservatively" more than 100,000 private homes were destroyed.
Rossello also used the interview to reiterate his concerns about a mass exodus of Puerto Rico's 3.4 million American citizens to the mainland should the situation fail to improve quickly with the help of a major aid package.
He said the upfront initial payment associated with such an aid package must be sufficient to keep the government afloat and allow it to start rebuilding.
"If we don't have that, then everything else starts collapsing," he said. "And people might stay and be part of the rebuilding process if they see that there is a path forward. But if they see that there is no path forward, they'll just take flight to Florida or Texas and settle over there."
Before it's here, it's on the Bloomberg Terminal.
LEARN MORE