Puerto Rico Control Board Backs Governor's Call for Assistance
By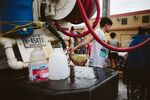 Puerto Rico's federally appointed oversight board asked congressional leaders for maximum assistance to "avert a tragedy of historic proportions" after the hurricane that devastated the island.
The letter signed by chairman Jose Carrion, published on the board's website Tuesday, was a major statement by the panel that the U.S. Congress created to wield broad sway over the bankrupt territory's finances. The panel approves the island's budget and is meant to help make unpalatable decisions such as closing schools and cracking down on tax evasion. Now, it is emerging as a champion for the ravaged island.
In the letter, which it sent in support of requests already made by Governor Ricardo Rossello, the officials cast doubt on whether Puerto Rico would be able to bear any of the costs of what could be a $95 billion recovery given its level of poverty, which is worse than even the poorest U.S. state.
Among other measures requested, the board asked lawmakers to raise limits on disaster recovery programs, waive local government cost-sharing requirements and extend the island's low-interest loans so it can contend with its growing liquidity crisis.
"Failure to provide the greatest amount of federal aid and the emergency liquidity program will be potentially ruinous," the board members said in their letter.
The call for federal assistance comes as Puerto Rico is dealing with an immediate humanitarian disaster made worse by the long-term debt crisis that led it to declare a form of bankruptcy this year. The island's government for decades had been plagued by budget deficits caused by wasteful spending, and borrowed $74 billion. Much of that went to operations.
The board and Rossello have clashed in the past, recently over a proposed furlough program for public employees that the governor opposed. The panel sued the governor in August over the resistance to the plan, a lawsuit it said on Saturday it withdrew so it could support the governor's administration after the hurricane. Any discussion about furloughs would be postponed until the next fiscal year, it said.
Rossello Tuesday said that there will come a time when the goals of the island's fiscal plan will have to be revisited.
"Some of those requirements are now impossible because of the situation we find ourselves in," he said. "As we emerge from the emergency, as we learn more about the aid package for Puerto Rico as well, those conversations will he had."
Before it's here, it's on the Bloomberg Terminal.
LEARN MORE