New Yorkers Rally to Hold Trump to His Word on Puerto Rico Debt
By and
Trump suggestion to "wipe out" territory's debt inspires crowd

As bond prices plunge, residents push to help devastated isle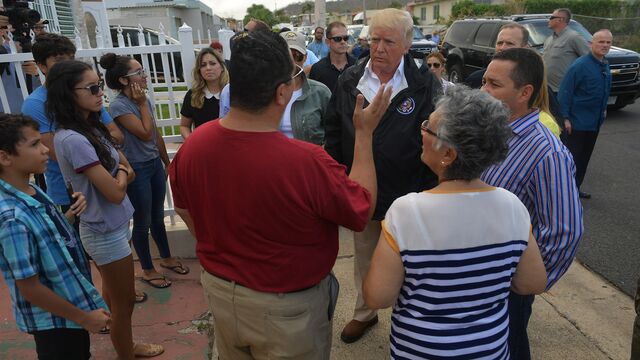 President Donald Trump doesn't often find support from demonstrators in New York, his hometown. But on Wednesday, dozens rallied in lower Manhattan, embracing his apparent suggestion that Puerto Rico's debts should be forgiven.
Chanting "zero debt now," more than 100 people gathered near City Hall, arguing that the $74 billion owed by the hurricane-wracked territory should be written off. Trump seemed to endorse just that in an interview late Tuesday with Fox News, causing a panic on parts of Wall Street, even though the White House budget director downplayed the remarks.
New York state Senator Gustavo Rivera, a Democrat who represents parts of the Bronx, said Puerto Rico should be given a reprieve with "no strings attached."
"After normalcy is established," he said, "we need to get rid of the debt." He added Wall Street lenders are "never going to get back their money."
Puerto Rico is already operating under bankruptcy, thanks to emergency rescue legislation enacted before Trump took office. After visiting Puerto Rico, in an interview with Fox Trump said the debt is going to have to be wiped out. Mick Mulvaney, director of the White House budget office, later said not to take the president's remarks "word for word."
The protesters preferred to hold him to them instead.
"If you want clear the debt then you do it," said Eddie Rodriguez, president of a New York City district council. "Just like they did for Wall Street."
Before it's here, it's on the Bloomberg Terminal.
LEARN MORE