Treasury Ethics Officer Left Before Review of Mnuchin's Flights
By
Rochelle Granat left in July and hasn't been replaced

Treasury inspector general is examining Mnuchin's flights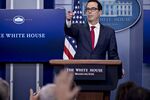 The U.S. Treasury Department's ethics officer left in July, even as Treasury Secretary Steven Mnuchin has encountered scrutiny over his use of government planes.
Treasury's former assistant general counsel for law, ethics and regulation, Rochelle Granat, had filled the ethics post for seven years, according to her LinkedIn profile, which says she left the job in July. The Office of Government Ethics website that lists designated ethics officers for each federal agency shows that the Treasury post is unfilled.
A Treasury spokesperson said that Granat had been replaced by a designated agency ethics officer, but didn't immediately respond to a request for the person's name.
Treasury isn't the only agency without a designated ethics officer. The job is listed as "vacant" for the Office of Budget and Management, the Office of Personnel Management and the Defense, Education and Housing and Urban Development departments. Each of those agencies as well as Treasury has "alternate" ethics officers, according to OGE. The website shows it was last updated on Wednesday.
An OGE official said that Treasury's alternate ethics officer should be able to perform the duties of the designated official, during a vacancy.
Granat's departure came just before Mnuchin's use of government aircraft triggered an inquiry by the department's Office of Inspector General. The investigation began after Mnuchin and his wife, Louise Linton, traveled Aug. 21 to Louisville, Kentucky, where he discussed tax policy at a public event and then toured Fort Knox.
Granat didn't immediately respond to a request via LinkedIn.
Read more: Trump's Health Secretary Resigns Amid Private-Jet Scandal
The OIG inquiry is also examining a request Mnuchin said his staff made, exploring the use of a U.S. Air Force plane for his honeymoon in August, citing national security concerns. That request was eventually withdrawn by his staff, he has said.
The inspector general's office has completed its inquiry and is expected to release the results publicly within a week, according to Rich Delmar, counsel to the inspector general.
The agency watchdog has also requested records related to a trip by Mnuchin's chief of staff, Eli Miller, on a private jet with the founder of a hedge fund.
Treasury secretaries in the past two decades have typically traveled on commercial airlines for domestic travel and sometimes have taken government aircraft on overseas trips to help facilitate their schedules or to account for security precautions. Former Treasury Secretary Jacob Lew said last week that he only used government planes for international trips.
— With assistance by Bill Allison
Before it's here, it's on the Bloomberg Terminal.
LEARN MORE