May's Bid to Win Support With Energy Cap Falls Flat Amid Mishaps
By and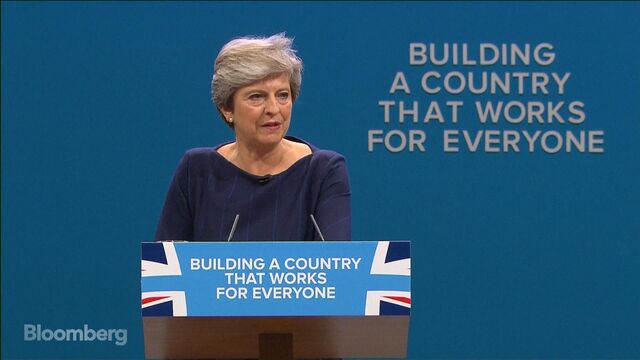 A major U.K. policy announcement to cap household energy prices was meant to be the headline for Prime Minister Theresa May. Instead, her reboot turned into a political calamity.
The crowd-pleasing reveal in her keynote speech at the Conservative Party conference was borrowed from the opposition and was accompanied with plans to build more social housing to try and woo voters tempted by Labour leader Jeremy Corbyn's brand of socialism.

Yet it all went wrong for what was meant to be an upbeat call to arms for the party to unite behind her. It began with a heckler who handed her a notice to quit, a security breach that rattled May. She then struggled through a series of coughing fits that elicited sympathy claps.
At one point, two letters fell off a banner at the back that said "Building a country that works for Everyone."
Read more: Heckler and Cough Turn May's Crucial Speech Into Disaster
The market in the meantime responded immediately to a plan to introduce legislation next week to fix what she called the U.K.'s "broken" energy market. While the move will be popular with consumers, business leaders condemned the policy. Shares in Centrica Plc, the biggest household power and gas supplier, fell as low as 7.4 percent to a 14-year low.
The government will "bring an end to rip-off energy prices," May said. "We will always take on monopolies and vested interests when they are holding people back."
Read more: Centrica Sinks to 14-Year Low as May Plans Energy Price Cap
The bigger question though is what this means for the vicar's daughter –- dubbed the "Maybot" by some in the British media for her scripted appearances and emotionless tone. She has said she will stand for another election scheduled five years from now and will see Brexit through to its completion in 2019.
"Her opponents will sense weak and wobbly not strong and stable; the P45 stunt, the voice, the letters falling off behind her didn't help," said Wyn Grant, professor of politics at Warwick University. "Also, there were some fundamental contradictions. One the one hand she's defending free markets, and on the other capping energy prices."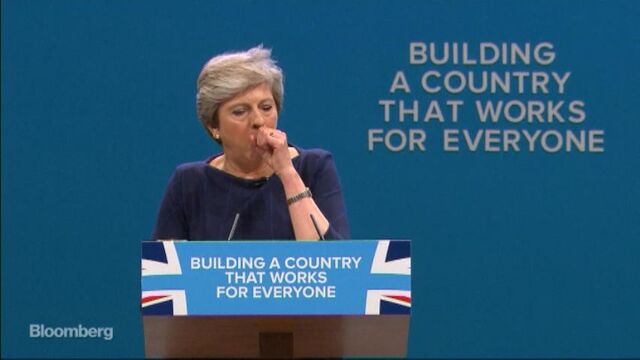 At stake is May's ability to carry on, with party members already dissatisfied with her performance in June's election, in which the Tories saw their parliamentary majority wiped out.
May has spent the four-day convention dodging questions about her gaffe-prone Foreign Secretary Boris Johnson after he set out a series of demands over May's Brexit strategy. On Tuesday night, he committed yet another gaffe by saying the port town of Sirte in Libya could become the new Dubai, once the nation clears "away the dead bodies," prompting condemnation within his own party.
His antics have plagued May for weeks. Everywhere she went the premier was asked why she wouldn't fire him. Her speech was meant to be her inspirational moment and even there she could not escape the shadow of her trouble-making minister. The prankster's letter said "With love from Boris."
Corbyn closed his Labour Party's conference in Brighton a week ago with a speech that drew a euphoric response from his supporters. At the end of her speech, May was met with pity.
"We haven't seen the last of leadership challenges, " Grant said.
— With assistance by Thomas Penny, Robert Hutton, Tim Ross, and Svenja O'Donnell
Before it's here, it's on the Bloomberg Terminal.
LEARN MORE