Medicare Policy Also Confused Reid, Aide Testifies in Menendez Trial
By and
N.J. Senator accused of intervening on behalf of close friend

Menendez criticizes Trump on Puerto Rico after trial ends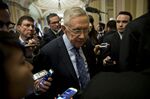 New Jersey Senator Robert Menendez's corruption trial includes an allegation that he intervened in a Medicare billing dispute on behalf of a close friend, who rewarded his help with bribes of campaign donations and luxury travel. Menendez maintains that he was simply trying to fix a bad policy.
On Wednesday, testimony from an aide to Senate Majority Leader Harry Reid appeared to bolster Menendez's defense. Reid also believed the Medicare billing policy at the heart of the billing dispute was confusing, his former aide, Katherine Leone, said in Newark federal court.
Reid expressed his view at a Capitol meeting he convened in 2012 with Kathleen Sebelius, the former Health and Human Services secretary, and Menendez. The purpose was to discuss the policy affecting Menendez's friend, Salomon Melgen, a Florida eye doctor, who is on trial with him.
Menendez is accused of taking official actions to help Melgen with government disputes in exchange for campaign contributions and luxury travel. One of those disputes was a finding by Sebelius's agency that Melgen, who is also on trial, had overbilled Medicare by $8.9 million.
Medicare Policy
Leone, the former aide, said the 2012 meeting wasn't to discuss Melgen's billing dispute, which he was appealing, but rather the Medicare policy. Leone said the agency set a "ground rule'' before the meeting that Melgen's pending case could not be discussed.
Menendez sought the meeting to discuss "an inconsistency in the guidance'' on how doctors could administer Lucentis, a drug Melgen injected in patients, Leone said. Melgen drew multiple doses from small vials, which under Medicare was permitted with some medications but not with Lucentis. Leone said Menendez wanted the policy "clarified in favor of multidosing.'' Sebelius gave similar testimony on Tuesday.
On cross-examination, Menendez attorney Abbe Lowell asked Leone about Reid's reaction to the policy during the meeting.
"I remember he thought it was confusing,'' said Leone, a former senior health care counsel for Reid.
Jurors also heard testimony from another former Reid staffer, Jake Perry. He raised money for Majority PAC, a fundraising committee that sought to maintain a Democratic majority in the Senate. Melgen gave separate $300,000 checks in June 2012 and October 2012 that were earmarked for New Jersey, Perry testified.
Menendez was the only senator in New Jersey up for re-election that year, and he trounced his Republican opponent. Melgen also gave another $100,000 to the same political action committee that wasn't earmarked for New Jersey. On cross-examination, Perry said neither Menendez nor his staff asked him for either of the $300,000 checks.
'Very Fun'
Perry, who flew on Melgen's private jet to visit him in the Dominican Republic, said he was a "very fun'' guy although his broken English was hard to understand.
Prosecutors told U.S. District Judge William Walls this week that Reid will not testify, according to two people familiar with the matter.
Menendez is accused of misusing his office to do favors for Melgen in exchange for hundreds of thousands of dollars in campaign contributions, as well as trips on private jets and stays at luxurious resorts. Prosecutors say Menendez took bribes to help Melgen with the Medicare dispute, to try to support him in a contract dispute with the Dominican Republic and to obtain visas for the doctor's girlfriends.
The two men maintain they are simply good friends who helped one another.
After the trial concluded its fifth week, Menendez told reporters that he was going to Washington by train this afternoon for a White House briefing on Iran.
A leading Hispanic member in Congress, Menendez had visited Puerto Rico on Friday to inspect the recent hurricane damage. He criticized President Donald Trump's comments this week about the federal response to the recovery efforts on the island.
"The president has difficulty both in exhibiting empathy and understanding the magnitude,'' Menendez said. "The comments that the president made, that everything is great and everything is working well, that is not the reality I saw as of Friday.''
The case is U.S. v. Menendez, 15-cr-155, U.S. District Court, District of New Jersey (Newark).
Before it's here, it's on the Bloomberg Terminal.
LEARN MORE