GOP Senators Ready to Examine Limits on Altering Semiautomatics
By
Cornyn, the No. 2 Senate Republican, calls for hearing

Products to modify semiautomatic guns are legal in U.S.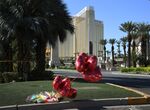 Senator John Cornyn on Texas, the No. 2 Republican leader, said he's open to considering whether Congress should limit Americans' ability to turn a semiautomatic weapon into essentially a fully automatic firearm.
Cornyn said Wednesday the Senate should convene a hearing on the issue in the aftermath of a mass shooting in Las Vegas on Sunday in which the gunman who killed 59 people modified weapons found in his hotel room with a "bump stock," which allows more rapid firing.
"It seems odd that it's illegal to convert a semiautomatic to an automatic, and it's illegal to buy or hold an automatic weapon without the appropriate license, that then you could just modify how many times a weapon can shoot by using something you can buy legally," Cornyn of Texas told reporters in Washington. "So I think it bears our review and a hearing would be the best way to do that."
Senator Ron Johnson, a Wisconsin Republican, called for a ban on the devices. "Automatic weapons are already illegal," Johnson told reporters. "To me it's part of the same process. So I'm OK with that."
Other Republicans, including Orrin Hatch of Utah and John Thune of South Dakota, said they're considering whether changes are needed.
Democrats, including Senator Dianne Feinstein of California, on Wednesday introduced legislation banning aftermarket products designed to allow more rapid firing. She said she has 25 co-sponsors so far, all of them Democrats.
Selling and manufacturing automatic weapons has been illegal since 1986, and weapons purchased before then are regulated by the federal government. Products to modify semiautomatic firearms are legal.
— With assistance by Terrence Dopp
Before it's here, it's on the Bloomberg Terminal.
LEARN MORE