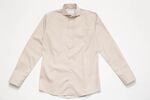 Season after season, men demand white shirts and blue shirts. Sometimes, for variety, they'll choose one that's both white and blue. Like most top shirt specialists, the Swedish company Eton elevates these basics through the quality of its fabrics and the artfulness of its sewing. But Eton is alone in employing menswear's most innovative shirtmaker as its creative director. His name is Sebastian Dollinger, and his mission is to transform commonplace button-ups into extraordinary creations by pushing their forms to the limit.

"We always try to reinvent classics," Dollinger says on a recent visit from Sweden to New York, where the 34-year-old designer is celebrating the redesign of the company's Madison Avenue boutique. He's explaining how he and Valerio Leone, "our technical dude," created one stunner—a solid blue shirt distinguished by its sumptuous twill weave. It began as an experi­ment: Dollinger was curious to see how "radically huge" they could make a twill, and he ended up with a business shirt that's both audacious in its bold look and luxurious in its fine feel. "It's such a niche thing that nobody will ever remember we did it," he says.
He's being modest. Eton—despite being headquartered 250 miles from Stockholm in Ganghester, Sweden—is not easily overlooked. The company sells a million shirts a year, ranging in price from $225 for a lustrous lightweight white poplin number to $315 for Dollinger's psychedelic short-sleeved seersucker shirt with a fish-scale print.

With all due respect to Paul Smith, it was Eton that popularized shirts with contrasting inner cuffs and collar. "We sort of set that entire ball rolling," Dollinger says. "Maybe aesthetically I wasn't proud of it, but I knew it was gonna be a demon in sales." His artistic sense is more gratified by Eton's wittier offerings: a blue gingham printed with a bulldog motif; a surprisingly elegant zip-up denim shirt; a Hawaiian pattern that replaces hula girls with "the most badass women we know."
"I'm kind of in awe of him," says one talented competitor, Chris Olberding, president of American shirtmaker Gitman and Gitman Vintage. "He has an incredible amount of creativity, but he's able to balance that with an analytic business mind. Sebastian's been able to change the perception of what a shirt can be."
Inside Eton's Madison Avenue outpost, Dollinger's superfans approach him with firm handshakes, like ­business-suited groupies—which is appropriate: He's an actual rock star on the side, building beats for Highly Sedated, a house-music outfit that released its first album in July.

A lawyer introduces himself to ask if Dollinger changed the cutaway collar on a recent shirt by a half-­centimeter. He hadn't but relishes the moment later. "It's hilarious how nerdy they are," he says. "It's so little about brand perception. It's very product-oriented, which is supercool."
Dollinger settled into this menswear niche at the age of 15, after his father—Jan Borghardt, Eton's sales and marketing director—got young Sebastian a full-time job in the stockroom. His rise at the company soon took him to Harrods in London, where, as an 18-year-old, he says he increased Eton's sales "by 2,000 percent" over five quarters.

Back in Sweden, while working wholesale accounts in Stockholm, Dollinger drove himself to master his subject so he could parry the taunts of snobbish clients—"tailors in their mid-50s or 60s," he remembers. "They always tried to frame me, that I didn't know anything. They would ask the most difficult questions. I was just trying to get into their store. So I made sure I would know everything about shirts. I basically spent a year at the weaving mills and at the finishing plant."
That immersion first paid off when Dollinger, recognizing that the company needed a slim-fit shirt, designed one himself. He kept submitting designs, and they kept succeeding. He eventually switched out of sales, and Chief Executive Officer Hans Davidson appointed him creative director at age 27.
Design inspirations come from simply playing with fabrics, Dollinger says. "Just trying to make a new white. That's what's generally on my mind: How can you make a new white and blue? The basics are the trickiest."

Before it's here, it's on the Bloomberg Terminal.
LEARN MORE