Companies Add Fewest U.S. Workers in Nearly a Year, ADP Says
By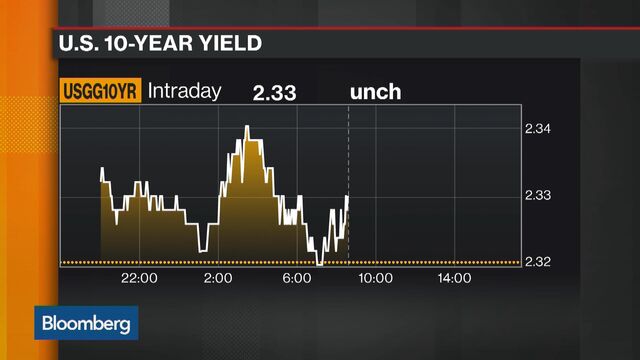 Companies last month added the fewest number of workers in nearly a year, reflecting a hit to the U.S. job market from hurricanes Harvey and Irma, according to data released Wednesday from the ADP Research Institute in Roseland, New Jersey. 
Highlights of ADP Employment (September)
Private payrolls rose by 135k (matching est.), the smallest gain since October 2016, after revised 228k increase in August
Payrolls in goods-producing industries, which include builders and manufacturers, rose 48k
Service providers added 88k workers, also the fewest in 11 months
Hurricanes led to a decrease in net hiring at small companies, ADP says
Key Takeaways
The report is the latest to show economic data are being affected by the tropical storms. The swings may continue in coming months, following the pattern seen after major weather events such as superstorm Sandy in the Northeast in 2012.
Excluding the impact of the weather, the labor market continues to make progress, helping to underpin consumer spending, the biggest part of the economy. At the same time, employers face the challenge of finding skilled workers as the job market is tightening.
The ADP results provide a signal for the private payrolls tally in the September jobs report due from the Labor Department on Friday.

Economist Views
"Hurricanes Harvey and Irma hurt the job market in September," Mark Zandi, chief economist at Moody's Analytics Inc. in West Chester, Pennsylvania, said in a statement. Moody's produces the figures with ADP. "Looking through the storms the job market remains sturdy and strong."
Other Details
Hiring in construction rose by 29,000 in September; factories added 18,000 workers
Professional and business services expanded their workforce by 51,000 while education and health services added 29,000 workers
Employment declined by 18,000 in trade services, transportation and utilities
Companies employing 500 or more workers increased staffing by 79,000 jobs; payrolls rose by 63,000 at medium-sized businesses, or those with 50 to 499 employees; and small companies reduced payrolls by 7,000
Before it's here, it's on the Bloomberg Terminal.
LEARN MORE