How Catalonia's Independence Bid Might Unfold
By , , and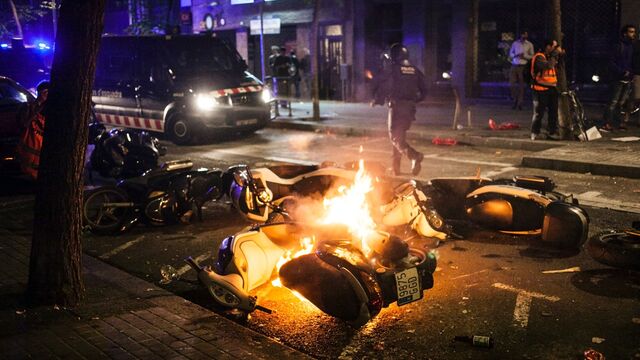 From sedition charges to allegations of police refusing to intervene, Catalonia's rebellion is the biggest threat to constitutional order in Spain since democracy was restored in the late 1970s. 
The unofficial vote on Oct. 1 to break away flouts the authority of Spain's police, courts and government and calls into question the legal framework of the country's $1 trillion economy. It's set the 7.5 million Catalans on course for a unilateral declaration of independence within days.
How serious has it become?
The National Court in Madrid started investigating possible sedition charges against three leaders of civic groups that helped organize the vote as well as against the Catalan police chief who oversees a 17,000-member force.
How are companies and markets reacting?
Drugmaker Oryzon Genomics SA became the first company listed on the stock market to announce it's moving out of Catalonia since the referendum. Oryzon's board said it agreed to move the legal domicile to Madrid from Barcelona "to optimize its operations and relations with investors." The company was founded in 2000 and employs 35 people, according to its website.
Its shares jumped as much as 33 percent on the news, while Spanish bonds declined as the political risk increased.
What exactly is the separatist plan?
The Catalan government insists it has a mandate for independence. It claims to have counted more than 2 million votes for separation in an illegal referendum that lacked certified voter lists and let people print ballots at home in a process not overseen by an official election board. Three days later, the Catalans still hadn't presented a final result.
 
Two million supporters would exceed its expectations and would have been enough for a comfortable majority in an ordinary, legal ballot of the region's electorate. Catalan President Carles Puigdemont has pledged to take the result to the regional parliament within days. Puigdemont is scheduled to address lawmakers on Monday.
How could this play out?
The Catalan referendum law stipulates that the regional parliament should declare independence within two days of being legally notified of a "yes" vote. Puigdemont leads a wide coalition of political parties that includes both corporate executives and self-styled anarchists. So far, he's managed to keep their differences in check. 
But the strains could start to show as the stakes rise. Perhaps wary of more police or even military entering Catalonia to enforce Spanish law, protesters on Tuesday shut down major roads and highways into Barcelona and the region's eastern flank at more than 50 spots, in a show of force that lasted several hours.
Spain won't just let that happen, right?

You wouldn't have thought so. But then you wouldn't have thought it would have gotten to this point either.
Prime Minister Mariano Rajoy still has a few cards to play, although they would be unprecedented and full of risk. He may suspend Catalan autonomy under Article 155 of the 1978 Constitution. That allows the central government to force a region to obey laws when disobedience "gravely threatens the general interest of Spain." 
Hard-liners within his party have urged him to do that for weeks, but the premier has held off, wary of provoking a popular backlash. There's debate in the Spanish media as to whether Rajoy will invoke that power preemptively, or wait for the Catalans to follow through on the referendum result. The article has never been used.
How can a further crackdown be enforced?

With the loyalty of the Catalan police force in doubt, that may mean relying on the estimated 10,000 national police and Civil Guard officers who have been sent to Catalonia as reinforcements. They have the numbers to remove Puigdemont, but it would trigger an uprising in the streets. The Catalan health authority said almost 900 people received medical attention when officers tried to shut down Sunday's vote, so there's a clear risk that the situation could spin out of control.
The Catalan police force adds another element of uncertainty. Sunday also saw a minor scuffle between Spanish and Catalan police, one Catalan officer was arrested for attacking a national police vehicle and tensions between the different forces are running high. If Spain took control of Catalonia, Rajoy would probably need support from the Catalan police to impose and maintain order.
If the Catalans do declare independence, whose law applies?

Spain is on the precipice of a legal no man's land. The central government and its police will enforce Spanish law, to the extent possible, while the Catalan rebels may say that no longer applies. The Catalan Parliament's "transitional" law of Sept. 8 proclaims sovereignty, without guaranteeing it will fulfill obligations it has to the rest of the nation, such as contributing toward paying its portion of the national debt. 
This legislation was suspended days afterward by Spain's Constitutional Court and has no effect under Spanish law. It also calls for secession to be negotiated with Spanish, European and international institutions. European Union officials on Wednesday made it clear they were on the side of Madrid, saying Rajoy was right to uphold the rule of law.
Spain's debt repayments aren't at risk are they?
Not at this stage. About 80 percent of the money Catalonia spends on salaries and public services is from tax revenue collected by the central government in Madrid. Madrid has already seized control of payments for Catalan civil servants' wages and public services instead of channeling the cash through the regional government in Barcelona. 
Any individual or company who stops paying taxes to Madrid will be directly pursued by the State like any other debtor, and tax officials can put a lien on bank accounts. In practice, that's one of the biggest barriers to stop a Catalan declaration from leading to true independence.
Is there no one else who can step in here to mediate?

German Chancellor Angela Merkel's government views conflict over Catalonia's efforts toward independence as a domestic issue for Spain. A resolution "can only happen within the constitution and democratic norms of Spain," government spokesman Steffen Seibert told reporters in Berlin. The European Commission has rejected Puigdemont's invitation to step in and mediate, and made it clear that an independent Catalonia would be outside the EU and its financial system would be shut off from ECB funding.
The monarchy also isn't going to mediate. Spanish King Felipe VI told Catalan separatists in a televised message that trying to break up his country was an "unacceptable disloyalty" and had no place in any democratic state, as he vowed to keep Spain together.
Catalonia's separatist leadership dismissed the condemnation hours later and on Wednesday evening Puigdemont made his own address where he said his government would soon apply the results of the referendum. He stopped short at if, how or when he would trigger the process to leave Spain.
So Rajoy has to sort this out?
Pretty much. Rajoy is struggling to find the political support he wants for an unprecedented move against the separatists, and the king's intervention may help sway the doubters. The main opposition Socialists are reluctant to share responsibility for any plan to push out the Catalan leadership.
— With assistance by Patrick Donahue, and Charles Penty
Before it's here, it's on the Bloomberg Terminal.
LEARN MORE