Catalan Banks Weigh Moving Headquarters to Reassure Clients
By , , and
Bank shares led stock-market declines in Madrid on Wednesday

Regional banks have sought to reduce dependence on Catalonia
For Pedro Jares, standing outside a CaixaBank branch in central Madrid, Catalan independence would mean switching to another lender.
"I want to be with a Spanish national bank, so tomorrow if Catalonia was independent I would leave CaixaBank," the financial consultant said while making a standard withdrawal. "So would my parents and my sister and pretty much all my friends that bank with them. They'd lose money."
Catalan lenders CaixaBank SA and Banco Sabadell SA -- which have spent years seeking to reduce political risk through expansion -- have once again been pulled into the region's volatile politics following Catalonia's threat of unilateral independence. Spanish Economy Minister Luis de Guindos on Thursday said Catalan lenders have indicated they're open to moving their headquarters elsewhere if the situation worsens. Sabadell, the region's second-biggest bank, called a board meeting for Thursday to discuss a potential relocation.

"The political situation is a pain in the neck for these banks," Cesar Molinas, founder of Multa Paucis, an investment consultancy firm, said in an interview. "They don't want clients in Madrid to see them as Catalan banks, nor clients in Barcelona to see them as Spanish banks. They're treading on thin ice."
Sabadell will hold an extraordinary board meeting at 5 p.m., according to a press officer for the bank who asked not to be named citing corporate policy. The company's preferred destination for new headquarters is Catalonia's neighboring region of Valencia, specifically the area of Alicante, the person said.
CaixaBank is considering a temporary move of its legal domicile to the Balearic Islands if plans for independence go ahead, newspaper El Mundo reported Thursday. "CaixaBank reiterates that all the necessary decisions will be taken, at the right time, always with the goal of prioritizing the interests of clients, shareholders and staff," the bank's press office said in an emailed statement.
Both banks' shares rebounded Thursday, with CaixaBank rising 3 percent at 3:28 p.m. in Madrid and Sabadell gaining 3.5 percent. The stocks suffered their biggest losses in more than a year Wednesday.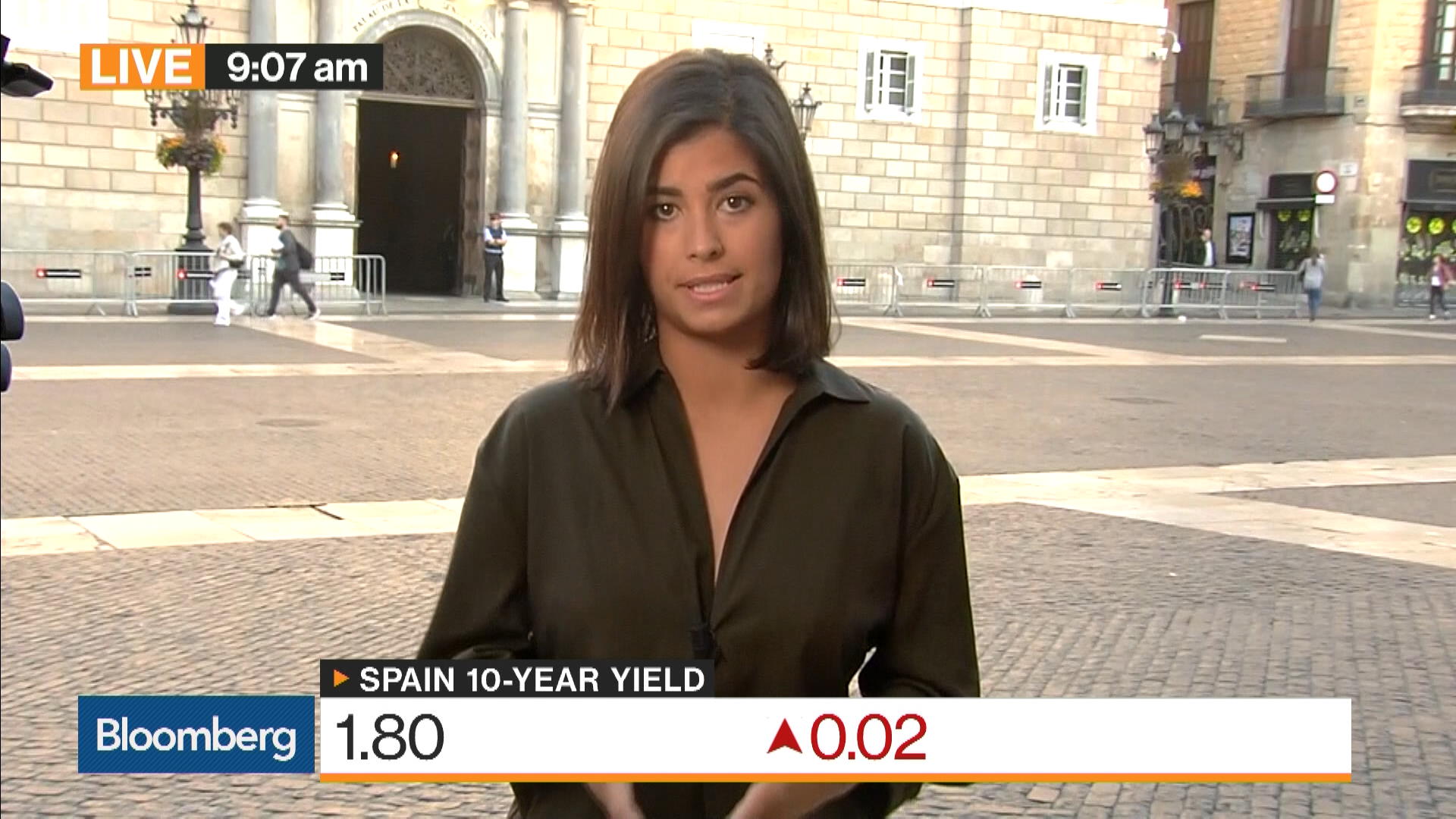 The banks' deliberations recall similar threats by several Scottish banks before that country's vote on independence in 2014. Royal Bank of Scotland Group Plc and Lloyds Banking Group Plc, along with smaller lenders, said at the time that they would move their legal domiciles to England if Scots chose to leave the U.K.
"I can assure you that the management teams of these banks are fully committed to the interests" of clients, depositors and shareholders, de Guindos said in an interview with Francine Lacqua on Bloomberg Television. "These institutions are quite solvent, are very strong."
Some wealthy clients of Catalan banks have begun moving money to lenders outside the region or inquired about doing so, according to an executive at a firm that received calls from prospective customers. Managers at CaixaBank private banking in Madrid have been proactively calling customers to discuss the situation in Catalonia and dispel concerns, according to one client, who asked not to be identified discussing the matter.
Investment banks with private-banking units in Spain include UBS Group AG, Credit Suisse Group AG and JPMorgan Chase & Co.
'Logical Concern'
Some Catalan bank clients have started opening accounts in branches across the border in regions like Aragon or Valencia, according to Roberto Tornamira, head of the financial-institutions division at trade union UGT.
"There is a logical concern in some customers, but the operation in the network is absolutely normal and there is no significant movement of deposits," Sabadell said in an emailed statement. "If there are any this is totally irrelevant."
CaixaBank said it "has not been affected by any unusual movements in customer deposits," and that it's "business as usual."
A potential concern for bank clients would be Catalonia's potential status outside the European Union in the event of independence. In Strasbourg on Wednesday, Manfred Weber, leader of the biggest group at the European Parliament, warned Catalans that "who leaves Spain, leaves the European Union," including the euro area and the single market.
ECB Monitors
As of now, both sides are at loggerheads. De Guindos, in the interview, ruled out any sort of mediated talks with separatist leaders, an offer Catalan President Carles Puigdemont had reiterated Wednesday. He said independence is out of the question and that there's nothing to discuss with the secessionists until rule of law is restored.
The European Central Bank is monitoring the impact of the Catalonia crisis on the region's banking system but sees no immediate reason for concern, according to a euro-area official familiar with the matter. The person asked not to be named because the matter is confidential. An ECB spokesman declined to comment.
Sabadell has a smaller expected profit cushion than CaixaBank to absorb any increase in provisions or revenue impairment, though liquidity concerns remain muted, Bloomberg Intelligence analysts Arjun Bowry and Jonathan Tyce wrote Thursday. Sabadell is two-thirds deposit-funded, with a further 10 percent each from wholesale markets and the ECB.
Blue Star Emblem
CaixaBank, in the memo to employees, said they should "pro-actively communicate to our clients our commitment to the defense of their interests, a commitment which has guided our actions through our history and will guide the future decisions which, if necessary, will be made."
The bank, founded in 1904, has often worn its origins with pride, conducting business in Catalan and under a blue star emblem designed by Barcelona-born painter Joan Miro. The Caixa group is the main shareholder in Barcelona-based Abertis Infraestructuras SA and holds 24 percent of Gas Natural SDG SA, also based in the city.
But the lender has also grown away from its home region by buying Banca Civica SA, a group of struggling savings banks, during Spain's banking crisis, and earlier this year took control of Banco BPI in Portugal. Sabadell expanded in the crisis by buying Caja de Ahorros del Mediterraneo and in 2015 acquired the U.K.'s TSB Banking Group.
"These banks have changed their image to become significant national lenders," said Ricardo Wehrhahn, Madrid-based managing partner at Intral Strategy Execution. "Outside Catalonia, people don't normally necessarily think of them as Catalan banks but when a crisis like this emerges, it emphasizes their Catalan heritage."
— With assistance by Charles Penty
Before it's here, it's on the Bloomberg Terminal.
LEARN MORE