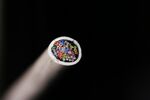 U.S. government bond dealers are finally emerging from years of widespread layoffs with an eye toward the future.
They used to be lionized as Masters of the Universe, as chronicled in Tom Wolfe's 1987 book "Bonfire of the Vanities," with larger-than-life reputations and salaries to match. Those days -- and paychecks -- are gone, the designer-suited swashbuckler replaced by the cool hum of computer servers. 
Rather than lamenting the widespread adoption of computers, the biggest firms are now embracing them and investing heavily in technology so they can be more efficient and profitable than their peers. JPMorgan Chase & Co. and Goldman Sachs Group Inc., the two biggest U.S. government bond dealers, have increased their tech spending by a third since 2012, according to Greenwich Associates. The nation's top six government bond dealers are spending nearly $25 billion on technology this year, the research firm said in an Oct. 3 report written by Kevin McPartland.

Tech startups like Algomi Ltd. and Numerix have increasingly sold their services, such as monitoring electronic bond-trading systems and providing market analytics, to larger firms. And smaller brokers that have moved quickly to adopt electronic tools to automatically hedge and execute trades more quickly and more cheaply have grabbed share, especially from the mid-tier firms that haven't been as swift to adapt. 

For example, the government bond dealers ranked below the top 10 now account for 17 percent of the business, compared with 9 percent in 2012, Greenwich Associates data found. These smaller firms have taken this business from firms ranked 6 through 10 and will most likely continue to accumulate market share. 
These developments expose an increasingly aggressive tech arms race that will only become more intense.

Human traders will still be needed, of course, but their focus will largely swing to building relationships with clients and navigating computer systems that automatically provide hedging, pricing estimates and trade execution. 
It also means that there are openings for tech-savvy entrepreneurs willing to rethink how business is done. If a firm can aggregate data better than another, or hedge risks more effectively or reduce costs enough to lure a significant share of investors, they will become the new masters of this particular universe. 
Before it's here, it's on the Bloomberg Terminal.
LEARN MORE