UBS Says Giving Up on Oil Pact 'Not an Option' for Saudi, Russia
By and
OPEC and its partners seen sticking together out of necessity

Brent may rise as high as $60 a barrel this quarter, bank says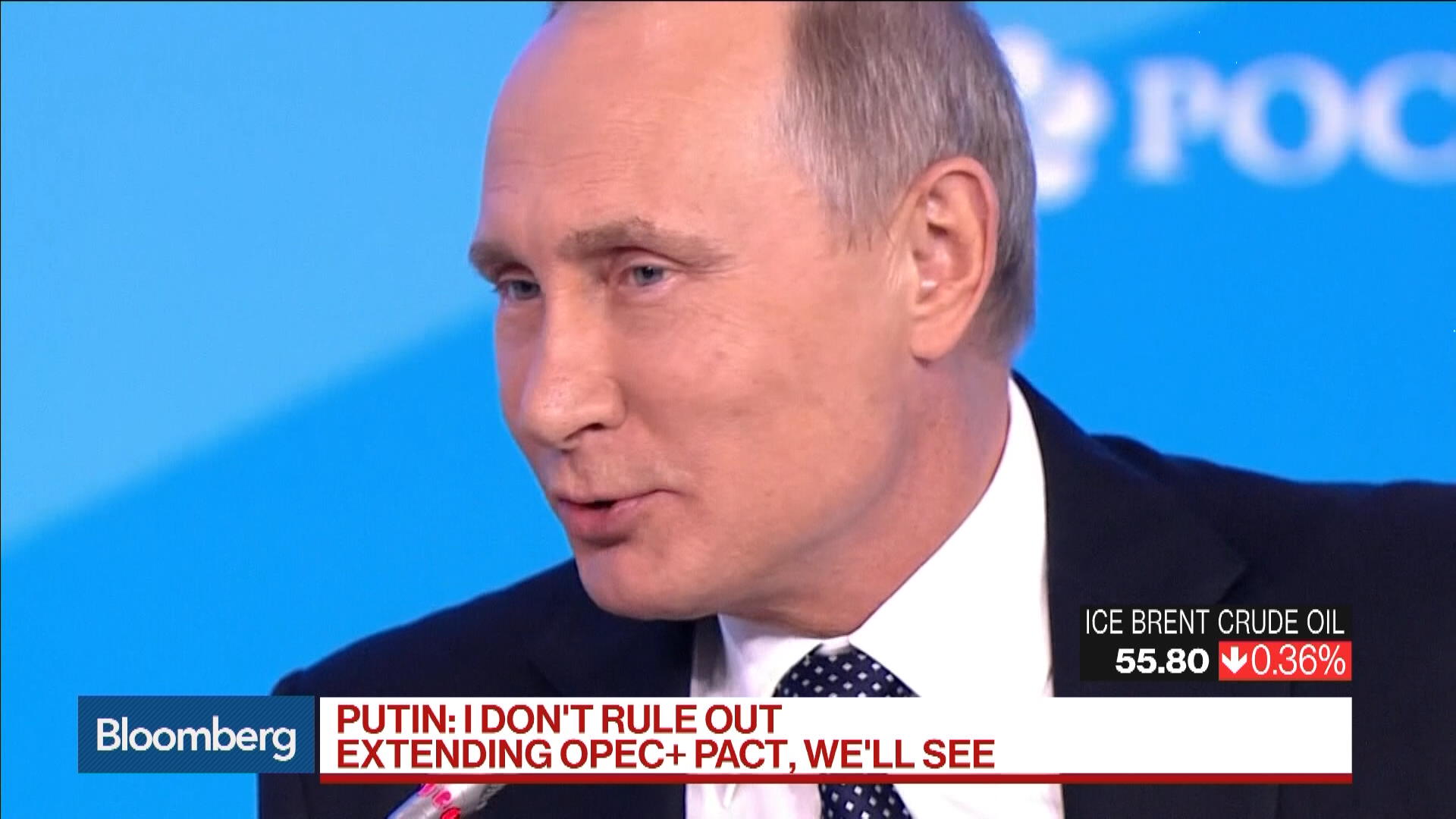 OPEC and its partners, including Russia, need to extend their oil-production cuts for at least three more months to keep crude prices at current levels, according to UBS Group AG.
"Just out of necessity they will stick together," Dominic Schnider, head of commodities and Asia-Pacific currencies at UBS's wealth-management unit in Hong Kong, said in an interview in Moscow. "Falling back to the old scheme with decent U.S. shale-supply growth expected for next year is not an option."
While oil returned to a bull market last week, it's still trading at half mid-2014 levels on concern that output curbs by the Organization of Petroleum Exporting Countries and its allies won't be sufficient to clear a global surplus. The group's current agreement expires at the end of next March, and as yet there's no decision on extending or deepening the cuts.
President Vladimir Putin said on Wednesday that Russia is open to extending the deal to the end of 2018, though he'll wait until nearer the expiry of the existing pact to make a decision. His comments, the strongest signal yet that the Kremlin is willing to redouble efforts to lift global energy prices, came as Putin prepared to welcome King Salman Bin Abdulaziz of Saudi Arabia to Russia for the first time this week. Benchmark Brent crude pared declines to trade at $55.86 a barrel at 3:16 p.m. Moscow time.

Saudi Arabia wants oil-market stability given the planned share sale of its state-owned energy company Saudi Aramco, while Russia will also favor prices over production, according to Schnider.
For Russia, "price gains are more valuable than volume gains -- how much can you really pump more from last year's peak production level?" he said. "We think they're going to stick to the pact and over the coming months they are likely to extend it -- hopefully for six months and not three months."
Following a meeting in Vienna in September, OPEC and Russia said they were about halfway toward clearing the global glut and urged fellow producers to stay focused and finish the job, while stopping short of announcing additional action. They are meeting again this week in Moscow to discuss the market and the mechanism for monitoring exports, Russian Energy Minister Alexander Novak said Tuesday, adding that no decision on extending the deal will be made.
Prices jumped almost 10 percent in September on forecasts for strong demand, on signs the surplus was finally easing, and on threats from Turkey to potentially block oil exports from Iraqi Kurdistan.
Price Outlook
Brent may climb as high as $60 this quarter as a result of rising demand and political risks, including tensions in Iraq, U.S. President Donald Trump's dissatisfaction with the Iran nuclear deal and social upheaval in Venezuela, Schnider said. "The problem is next year," when prices may average $55, UBS forecasts show.
At current prices, oil production in the U.S. may increase by as much as 800,000 barrels a day next year, or 1 million a day when including natural-gas liquids, according to Schnider. Total non-OPEC growth could reach as much as 1.4 million barrels a day, he said.
"Where are we left, if OPEC together with Russia is not sticking together?" he said. "If the agreement falls apart, then prices just sink immediately."
Schnider also said:
Some countries could remain exempt from the output-cut agreement, including Libya; compliance among the main producers is key
With oil above $60, there is a reduced need to "cheat" among producers, but it's lucrative to do it. "I think that's probably a stronger argument."
Reduction in oil-field investments during the last two to three years could affect supply five years down the road. Production could start to dwindle in 2019, providing room for firmer prices.
Before it's here, it's on the Bloomberg Terminal.
LEARN MORE