Uber Board Meets for a Vote on Major Governance Reforms
By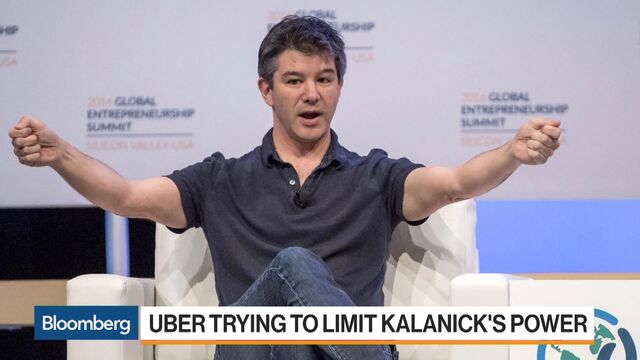 As Uber's Dara Khosrowshahi lobbied officials in London to reverse a citywide ban, the new chief executive officer also had his attention on a different kind of politics at headquarters.
The Uber Technologies Inc. board convened for a pivotal meeting Tuesday afternoon to decide whether to go forward with a massive investment deal with SoftBank Group Corp. and potential limits on ex-CEO Travis Kalanick's power. The discussion was set to include talks of expanding the board to as many as 17 seats, according to people with knowledge of the plans.
Directors at the San Francisco company are optimistic about passing a share sale of as much as $10 billion, though it's possible the board will need to accept certain compromises to reach consensus, said the people, who asked not to be identified because the deliberations are private. With governance reforms still being modified Tuesday morning, proposals designed to shift power from the former CEO to the current one could be softened, the people said.
The final proposal seemed certain to retain one key provision: moving the company toward one share, one vote. Kalanick and early investors like Benchmark have outsize voting power, which is expected to be diminished as part of the deal. The proposal also set a deadline for the company to go public in the next two years. A draft on Tuesday retains many of the major provisions, two people said. The complicated measures are contained in a document that's as long as a Congressional bill, at more than 100 pages.
Spokesman for Uber and Kalanick declined to comment.
Ahead of this week's vote, Kalanick appointed two corporate titans, former Merrill Lynch CEO John Thain and former Xerox Corp. CEO Ursula Burns, to Uber's board without consulting other directors. Those seats are the subject of a lawsuit against Kalanick by Uber's largest venture capital backer, Benchmark. The case is currently in private arbitration. Although Khosrowshahi expressed disappointment at the surprise move, Uber said the two new directors were confirmed. Kalanick's move appeared to have succeeded, and the pair will remain on the board.
In order to give SoftBank the two board seats it wants in exchange for the investment, Khosrowshahi has discussed expanding the board to 14, which would also make room for an independent chairman, people with knowledge of the discussions said. Another option on the table is to bring the total to 17, with room for more independent directors, the people said. It would make Uber's board more than twice as large as the average private company and bigger than most public firms, according to the National Association of Corporate Directors, a trade group.
Khosrowshahi wants the current 11-person board to cast a single vote that encompasses the deal and the revisions to corporate governance. He decided to package the vote together, with advice from Goldman Sachs Group Inc., in the hopes of attracting enough votes to change the company's power structure. Benchmark is a major proponent of the slate of reforms. Kalanick has been engaging with Khosrowshahi in hopes of finding a compromise that will unify the board.
Shervin Pishevar, Kalanick's friend and an early Uber investor, put some heat on board members to oppose the reforms in a letter drafted by a law firm. Among those expected to vote yes are Khosrowshahi and Benchmark's Matt Cohler, as well as non-executive directors Arianna Huffington and Wan Ling Martello, a person familiar with the discussions said.
Last time Uber's board went into such heated deliberations, they were weighing two high-profile candidates for CEO: General Electric Co.'s Jeffrey Immelt or Hewlett Packard Enterprise Co.'s Meg Whitman. Instead, the board opted for a surprise pick in Expedia Inc.'s Khosrowshahi. This time, Khosrowshahi is trying to avoid a surprise outcome.
Before it's here, it's on the Bloomberg Terminal.
LEARN MORE