U.S. Expels 15 Officials from Cuban Embassy After Bizarre Attacks
By
Move is aimed at keeping parity after U.S. staff withdrawal

Investigation still hasn't found who is to blame for attacks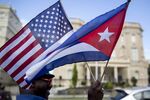 The State Department ordered the expulsion of 15 Cuban Embassy officials over a series of unexplained health attacks on Americans, a move likely to deepen divisions between the U.S. and Cuba as President Donald Trump unwinds an Obama-era push to improve diplomatic ties.
"The decision was made due to Cuba's failure to take appropriate steps to protect our diplomats in accordance with its obligations under the Vienna Convention," Secretary of State Rex Tillerson said in a statement Tuesday. "This order will ensure equity in our respective diplomatic operations."
The reductions will mean parity in staffing after the U.S. ordered more than half its diplomats and their families to leave the island Sept. 29 following the unexplained incidents, which the State Department says left 22 people with hearing loss, cognitive issues and difficulty sleeping.
The U.S. still hasn't determined what caused the health effects, and the decision to call the incidents deliberate attacks stems from the pattern of people affected. "There's no other conclusion we can draw," said an official who briefed reporters on condition of anonymity before Tillerson's statement. The latest incident occurred in August.
The attacks have strained ties that were restored under President Barack Obama in 2014 after more than half a century. U.S. diplomats in the country have opposed the withdrawal, privately appealing to Tillerson to remain in their posts despite the possible danger.
Trump campaigned on rolling back some of the Obama administration's moves to thaw relations with Cuba, announcing new restrictions on U.S. citizens' ability to travel and do business in there in June. Trump called the Obama administration's push for better ties a "completely one-sided deal."
Read More: Why Trump Is Adding a Chill to the U.S.-Cuba Thaw
Cuba is still investigating the cause of the health effects, and the decision to expel some of its officials isn't a finding of guilt or a change in policy, the U.S. official said.
"Until the Government of Cuba can ensure the safety of our diplomats in Cuba, our embassy will be reduced to emergency personnel to minimize the number of diplomats at risk of exposure to harm," Tillerson said in the statement. "We continue to maintain diplomatic relations with Cuba, and will continue to cooperate with Cuba as we pursue the investigation into these attacks."
Cuba has a week to recall its staff, the official said.
'Mission to Do'
Reflecting U.S. diplomats' opposition to the withdrawal, the American Foreign Service Association issued a statement Sept. 29 arguing that staff should remain. The group, which is the union for the U.S. Foreign Service, argues that questions surrounding the health issues are "complicated" and its members "are clear that they have a job to do."
"AFSA's view is the American diplomats need to remain on the field and in the game," the group said. "We have a mission to do, and we're used to operating with serious health risks in many environments, whether it's parasites that rip up our guts in Africa, exposure to Zika virus and dengue fever, or air pollution in China and India."
Just 90 miles (145 kilometers) from the Florida Keys, Cuba was historically a strategic outpost of the Soviet Union and other countries opposed to the U.S., and it remains a country where American allies and enemies operate in close proximity. Along with a large embassy, Russia maintains eavesdropping operations targeting the U.S. from Cuban territory, while North Korea, Iran and Syria also have diplomatic compounds in Havana.
A State Department travel warning against U.S. citizens visiting Cuba could crimp efforts by companies including Carnival Corp.'s cruise line and American Airlines Group Inc. to expand tourism to the island nation. They were among U.S. companies that have taken advantage of Obama's decision to restore diplomatic ties with Cuba.
Before it's here, it's on the Bloomberg Terminal.
LEARN MORE