Fox Hails Joint EU Brexit Plan on Splitting WTO Quotas
By and
Fox: early agreement on quota methodology 'good step forward'

Quotas to be shared based on where farm goods are consumed: FT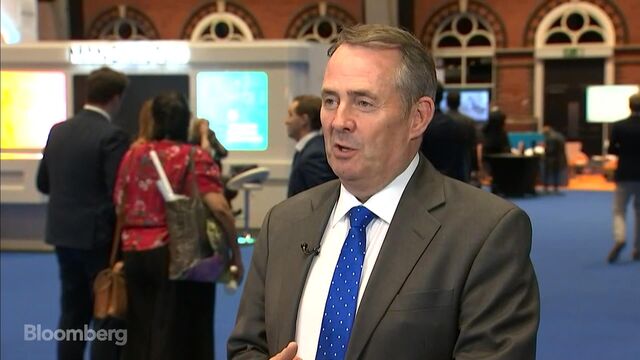 The European Union and the U.K. have reached an understanding on the methodology they will use to divide between them World Trade Organization quotas after Brexit, Trade Secretary Liam Fox said.
"We have come to an agreement on the methodology of splitting EU quotas as we move forward," Fox said in an interview with Bloomberg Television on Tuesday. While this is not a final agreement with the WTO, "it is a good step forward," he said.
Fox's comments mark the first official confirmation of the development, earlier reported by the Financial Times. It comes at a key moment for Brexit negotiations, which have stalled in Brussels in an ongoing dispute over money. The WTO negotiation is separate to those discussions.
As the U.K. quits the bloc of 28 countries in 2019, it will need to separate out its share of the EU's overall quotas for farm goods that can be imported from countries such as New Zealand and Australia.
The FT reported that the proposed deal between the U.K. and the EU would involve dividing the quotas according to where the goods are consumed. For example, Britain would take a larger share of the EU's quota of lamb from New Zealand, because the U.K. market represents a big share of the total EU demand for the meat.
"As we leave the EU we have to agree methods of dividing up the amount of quota that Britain should take from EU agreements and we've agreed on methodologies," said Fox, speaking on the margins of the Conservative Party conference in Manchester, England. "It's a step forward and it's a sign we can make progress when both sides choose to do so."
Before it's here, it's on the Bloomberg Terminal.
LEARN MORE