Trump Says Puerto Rico Has Thrown the Budget 'Out of Whack'
By , , and
President says relief costs throw his budget 'out of whack'

White House finalizing $29 billion aid request for storms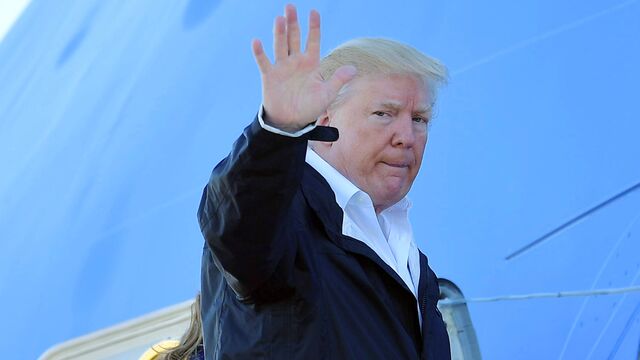 President Donald Trump took measure of the widespread damage in Puerto Rico almost two weeks after Hurricane Maria, expressing concern about its impact on the federal budget as his administration finalizes a $29 billion disaster aid request covering a series of major storms.
Trump paid a four-and-a-half-hour visit to the island Tuesday, greeting local officials and offering consolation to residents who have been without power and, in many cases, drinking water since the storm struck on Sept. 20. Some in Puerto Rico's government already are estimating reconstruction costs will be as high as $60 billion.

"The power grid has been down -- infrastructure, roads, telecom, water supply, hospitals -- so getting major hurricanes back to back within two weeks has caused severe damage," said Gerardo Portela Franco, who leads an agency established to act as the commonwealth's fiscal agent in bankruptcy and made the $60 billion initial cost estimate.
Puerto Rico's Fiscal Oversight Board, established by Congress to control the commonwealth's budget, wrote to lawmakers Tuesday asking for immediate steps to help with recovery costs that it said could rise even higher, pointing to a Moody's Analytics estimate that the island sustained $95 billion in hurricane-related damage.
Trump faces pressure as president to show effective leadership in recovering from a disaster even as Republican conservatives in Congress are loath to fund a massive rebuilding effort. His spat with San Juan's mayor and Twitter criticism of islanders added to the challenge of demonstrating sensitivity to their plight.
Coffers Empty
Jim Millstein, founder of Millstein & Co., a former adviser to Puerto Rico, said the island's $74 billion debt renders it unable to finance recovery efforts. 
"The real issue is the government of Puerto Rico doesn't have the cash," Millstein said in a Bloomberg Television interview.
The White House is finalizing a $29 billion disaster-aid request that would include $16 billion to shore up the government-backed flood insurance program and $13 billion in additional relief covering the entire hurricane and wildfire season, including major storms that hit Texas, Louisiana and Florida as well as Puerto Rico, according a Republican lawmaker.

At a briefing with local officials in an airport hangar, Trump complained -- perhaps as a joke -- about the expense of the federal response to the storm.
"I hate to tell you, Puerto Rico, but you've thrown our budget a little out of whack -- because we've spent a lot of money on Puerto Rico and that's fine, we've saved a lot of lives," Trump said.
Trump suggested that based on the storm's official death toll -- which was raised to 34 late Tuesday -- the federal response appeared superior to George W. Bush's handling of Katrina in 2005.
"When you look at a real catastrophe like Katrina and you look at the tremendous, hundreds and hundreds and hundreds of people that died, and you look at what happened here, with really a storm that was just totally overpowering, nobody's ever seen anything like this," Trump said. "And what is your death count right now?"

As he assessed the financial impact, Trump also sought to make amends with local officials he had criticized.
Trump shook hands with the San Juan Mayor Carmen Yulin Cruz, whom he chided over the weekend on Twitter. As they greeted each other, she told him, "it's not about politics."
After she criticized acting Homeland Security Secretary Elaine Duke over the weekend for calling the federal response to Puerto Rico a "good news story," Trump maligned "politically motivated ingrates" in the territory on Twitter.
One potential outcome, should rebuilding bog down, is that some of the island's 3.4 million residents, who are American citizens, could relocate en masse to Florida and other mainland states, a potential political problem for Republicans and an economic blow to the island.
"You're not going to get hundreds of thousands of Puerto Ricans moving to the states -- you're going to get millions," the territory's governor, Ricardo Rossello, said at a news conference. "You're going to get millions, creating a devastating demographic shift for us here in Puerto Rico, a brain drain."
After the briefing, Trump toured a neighborhood damaged by the storm and posed for pictures with local residents.
He observed that homes built of concrete seemed to have fared better than those made of wood. He told an older woman, "you're beautiful."
"We're gonna help you out," he told one family. "Have a good time."

At a church, he again compared the number of deaths from Maria to past hurricanes and said the Federal Emergency Management Agency had done "an incredible job."
"The power grid honestly was being devastated even before the hurricane hit," he said.
Franco said the island's power grid alone could cost $5 billion to repair.
Inside the church, he handed out packages of rice to a crowd, and then tossed them rolls of paper towels, launching them into the audience as if taking basketball jump shots. Trump received applause, cheers and whistles.
As Trump left Washington for the trip, he was unabashed in boasting about the federal response, describing the effort as "incredible" and comparing it favorably with aid after hurricanes in Texas and Florida.
Report Card
"In Texas and Florida we got an A-plus, and I'll tell you what, I think we've done just as good in Puerto Rico, and it's actually a much tougher situation," Trump told reporters outside the White House. "Now the roads are clear, the communications are starting to come back."
On the ground in Puerto Rico, 93 percent of homes still lacked electricity as of Tuesday and less than a quarter of the population had mobile-phone service. The president waited eight days to waive restrictions under the Jones Act that limit which ships can deliver relief supplies, and he also was criticized for tweeting more about football players kneeling during the national anthem in the days after the storm than about the crisis on Puerto Rico.
Oxfam, which rarely responds to disasters in the U.S. and other wealthy countries, said Monday that it would start work in Puerto Rico amid "the slow and inadequate response the US Government has mounted," said Oxfam America's president, Abby Maxman, in a statement on the organization's website. "The US has more than enough resources to mobilize an emergency response" but "has failed to do so in a swift and robust manner."
— With assistance by Toluse Olorunnipa, Nathan Crooks, Jonathan Levin, Kathleen Hunter, William Selway, and Billy House
Before it's here, it's on the Bloomberg Terminal.
LEARN MORE