Trump's South Asia Policy Having Impact, Afghan Leader Says
By
Abdullah says U.S. already has new assets on the ground

U.S. officials say 16-year conflict is at a 'stalemate'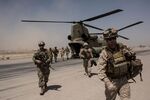 U.S. President Donald Trump's new South Asia policy, which includes an open-ended commitment to the conflict in Afghanistan, has already had a clear impact, according to the country's Chief Executive Abdullah Abdullah.
U.S. forces have more "assets on the ground," including two Black Hawk helicopters in the southern city of Kandahar, and can now more quickly respond to situations across Afghanistan, Abdullah, who shares power with President Ashraf Ghani, said in an interview in New Delhi. Defense Secretary Jim Mattis said last month that more than 3,000 additional troops were being deployed mostly to help train and advise the Afghan army. In an August speech, Trump also removed any conditional targets or timelines for withdrawal.

Yet it remains to be seen whether those changes can make a difference in what, after nearly 16 years, has become America's longest war. General Joseph Dunford Jr., chairman of the U.S. Joint Chiefs of Staff, told Congress Tuesday that he backs a February assessment that the conflict on the ground is a "stalemate," adding that "we are not at a point where we can bring a successful political solution to the war."
Nevertheless, the morale of the Taliban has suffered and there's been more outreach from the group's fighters as they realize the U.S. won't be leaving anytime soon, Abdullah said.
"There are more contacts, more approaches by the Taliban recently, at different levels," Abdullah said. "We can also consider that as an impact."
Removing Uncertainty 
Trump is the third U.S. president to struggle with ending the conflict in Afghanistan, a country beset by ethnic, religious, cultural and tribal factions amplified by the involvement of powers including Russia and neighboring Pakistan. Trump's open-ended plan also risks getting the U.S. further bogged down.
Dunford said the revamped U.S. strategy means an "enduring commitment" to Afghanistan. Mattis, speaking at the same congressional hearing Tuesday, said the U.S. and allies are "holding the line" against the Taliban as forecasts of a significant offensive by the militants "remain unfulfilled."
But while Republican Senator John McCain, chairman of the Armed Services Committee, praised the administration's new approach at the Tuesday hearing, he said many critical questions about the plan have not been addressed.
Most importantly, McCain, said, it is "unclear why we should be confident that this new strategy could turn the tide in Afghanistan or bring us meaningfully closer to success than its failed predecessors."
'Get Out'
Yet relieved Afghan officials have widely praised the new policy, which reversed Trump's earlier position that the U.S. had "wasted an enormous amount of blood and treasure in Afghanistan" and should immediately "get out."
Analysts have previously suggested that Taliban leaders were unwilling to engage in peace talks because they thought the Afghan government and security forces were slowly losing ground to the insurgent group, which which controls or contests about 40 percent of the country. The Taliban also felt they had time on their side and could wait out former U.S. President Barack Obama's timeline for American withdrawal. In his last year in office, Obama put off a plan to reduce the U.S. presence to 5,500 troops.
Abdullah said it was too early to tell whether this renewed outreach will bring the two sides closer to holding peace talks and he declined to give specifics about how the new South Asia strategy would unfold. However, he said Trump's policy had removed uncertainty about the U.S. commitment to Afghanistan.
Special Forces
"One characteristic of that policy is the clarity of the message," he said. "It removed that uncertainty."
Failure by Trump to resolve the Afghan war risks even greater financial and human costs for the U.S. and Afghanistan. Since former President George W. Bush first sent special forces to Afghanistan to help oust the Taliban government and track down Osama bin Laden after the Sept. 11, 2001 attacks, the war has cost the U.S. more than $714 billion and more than two thousand military fatalities. Tens of thousands of Afghan civilians have also been killed.
Tempering a more optimistic outlook, the U.S. inspector general for Afghanistan said in a report in August that a group affiliated with Islamic State has laid down roots in the country, part of a broad deterioration that has seen a record number of Afghan civilians killed. The inspector general depicted U.S. personnel as hunkered down behind blast walls, limiting their effectiveness. Moreover, even a modest increase in U.S. troops will leave force levels far below the 100,000 American soldiers sent to stabilize the country under Obama.
The new U.S. commitment, which promises to boost capacity within Afghanistan's air force and special forces, is designed to help the country battle the emergence of Islamic State, often referred to as Daesh.
"Part of the cooperation is doubling the size of Afghan special forces, commandos, which are more effective in dealing with Daesh," Abdullah said.
Doha Office
Abdullah said he is "not aware" of any pressure from the Trump administration to close the Taliban's representative office in the Qatari capital of Doha, after a report in the Guardian newspaper said the U.S. president was pushing Ghani to close the office.
The office has been used in the past to engage the Taliban in talks, though it's unclear now how much clout it has over the group's leadership and it has effectively outlived its original purpose, according to Abdullah.
"It helped in establishing the contacts, but at the same time it led to a situation in which the Taliban thought that this might be a step toward recognition -- that was not the aim of that office," Abdullah said. "At this stage, is it effective, that office? I don't think so. In terms of the pursuit of talks or negotiations."
With a key plank of Trump's South Asia policy pushing India to increase its involvement in Afghanistan, Abdullah was in New Delhi last week for talks with Prime Minister Narendra Modi to deepen trade ties and help peace efforts.
Tense Unity

Abdullah has also been attempting to mend fractious relations with Ghani now that the U.S.'s strategy has become clearer.
Abdullah said he and Ghani were "working together," when asked about well-known tensions within Afghanistan's national unity government, which came about as a result of a power-sharing agreement after disputed 2014 elections. Last year, Abdullah said Ghani was "not fit for the presidency" and accused him of not implementing the U.S. brokered accord that aimed to prevent a possible civil war.
"Afghanistan comes first," he said. "People might have expected us to deliver more. I will not argue against that. But this is a government that has taken serious responsibilities on its shoulders. And I would always hope that we would be able to perform better."
— With assistance by Anthony Capaccio, and Larry Liebert
Before it's here, it's on the Bloomberg Terminal.
LEARN MORE