Congress May Weigh a Curb on Modifying Semiautomatic Guns
By
Thune says lawmakers should examine aftermarket alterations

Senate majority leader calls gun discussions 'premature'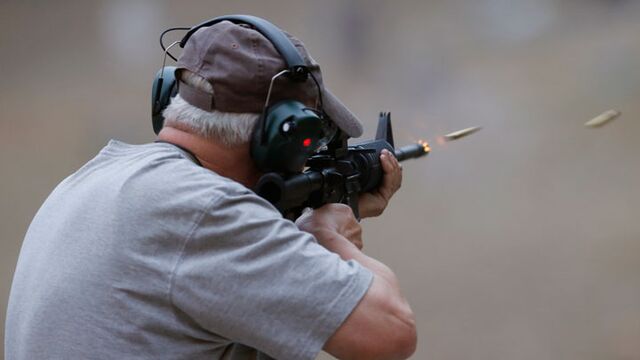 The No. 3 Senate Republican suggested that Congress might consider legislation limiting Americans' ability to turn a semiautomatic weapon into essentially a fully automatic firearm while the chamber's GOP leader, Mitch McConnell, said it's too early to talk about gun restrictions.
The comments came in response to calls by gun-control advocates for new restrictions after Sunday's mass shooting in Las Vegas, in which 59 people died and more than 500 were injured.
John Thune, the GOP's No. 3 leader from South Dakota, told reporters Tuesday that "to turn semiautomatic weapons into virtually automatic weapons, you know, that's something I think we'll take a look at." Thune said lawmakers need to know more details about the weapons used in the attack and how the gunman obtained them before writing legislation.
But the Senate Republican leader, McConnell of Kentucky, told reporters that "it's premature to be discussing legislative solutions." Likewise, Senator John Cornyn of Texas, the chamber's No. 2 Republican, said Monday "it's not a time to be politicizing this" and that he thinks there will be a "respectful period" before any further gun legislation advances.
Democrats, including Senator Dianne Feinstein of California, have pushed legislation banning aftermarket products designed to allow more rapid firing and said in a statement Tuesday that she's looking at how to proceed in light of the Las Vegas shooting.
"This is the least we should do," she said. "It should be our highest priority."
Selling and manufacturing automatic weapons has been illegal since 1986, and weapons purchased before then are regulated by the federal government. Products to modify semiautomatic firearms are legal.
The Senate's Democratic leader, Chuck Schumer of New York, said he and his colleagues want President Donald Trump to convene a bipartisan gun-control meeting to "come up with a reasonable solution."
— With assistance by Laura Litvan
Before it's here, it's on the Bloomberg Terminal.
LEARN MORE