Catalan Independence Supporters Block Major Roads Into Barcelona
By and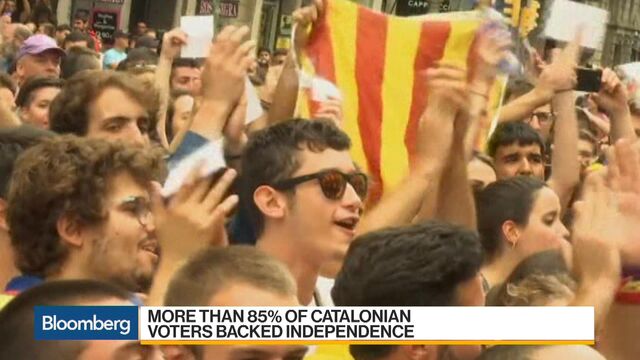 Major roads to Barcelona and through eastern Catalonia were blocked in about 17 places as pro-independence protesters made a show of force to coincide with an indefinite general strike some of them are promoting across Spain's largest regional economy.
Traffic was cleared along the A-2 and AP-2 highways into the Catalan capital from Zaragoza and Madrid as of 4:25 p.m. Spanish peninsular time, according to the regional traffic bureau. That's down from five blockages along those highways on Tuesday, as the situation remains fluid.
Spain's national traffic agency, Dirección General de Tráfico, said any potential order to clear highways from protesters would have to come from the Mossos D'Esquadra, the local Catalan police. A spokesman for the Mossos said it had received no orders to clear the motorways.
Some separatist groups and minor trade unions have called for a general strike across the region of 7.5 million people, though the larger unions are pushing for narrower demonstrations. The two biggest unions, Comisiones Obreras and the UGT, are backing rallies to protest the police crackdown, which began over the illegal independence vote last weekend.
Earlier on Tuesday, protesters took over the train station in Girona, a city with a population of about 100,000 that's north of Barcelona and about 70 kilometers (43 miles) south of the French border. Train service was suspended, according to a posting on the station's website that was later removed. An official at the station wasn't immediately available to comment.
— With assistance by Ainhoa Goyeneche
Before it's here, it's on the Bloomberg Terminal.
LEARN MORE