What a Siberian Credit Boom Says About Russia's Economy
By
Retail lending is growing fastest in Russia's poorest regions

Average household spends up to 15% of income on servicing debt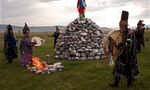 A remote enclave in southern Siberia with Russia's second-highest unemployment seems like an odd place for a credit boom.
But Tuva, a predominantly Buddhist republic with a jobless rate of almost 20 percent, is emblematic of the world's most unequal major economy. Lending is surging there as some of Russia's poorest take on high-cost debt to make ends meet. Consumer loans in the first seven months swelled in Tuva by more than a third, outpacing the national average by 50 percent.
A lending bonanza sweeping the parts of the country that have fared worst during its longest recession in two decades means the latest credit boom may be built on quicksand. Financial services in the regions are a staple for Russia's leading online retail bank, TCS Group Holding Plc, which extends 82 percent of its loans outside of the two richest cities, Moscow and St. Petersburg.

For the neediest, debt is becoming a solution of last resort when stretching the ruble further isn't an option.
"In poor regions, the population has exhausted the ability to maintain its consumption and has been forced to resort to borrowed money to maintain a somewhat bearable standard of living," said Elena Grishina, a professor at the Russian Presidential Academy of National Economy and Public Administration.
The rapid loan growth goes a long way to explaining why more than a year of gains in real wages has failed to lift incomes and consumer spending. Russia's poor are channeling the extra money to service existing debt, with borrowers committing some 2 trillion rubles ($34 billion) annually to cover interest payments alone, according to Natalia Orlova, chief economist at Alfa-Bank JSC.
'Shock Therapy'
On Wednesday, President Vladimir Putin blamed Russia's wealth divide on the post-Communist "shock therapy" policy. Undertaken to revamp the command economy after the Soviet collapse, it plunged millions into poverty.
The inequality "arose from the very start of the 1990s, from the moment that the Soviet social system was dismantled and market relations developed," he said at the Russian Energy Week conference in Moscow. "That's where it all began."
The average household already spends up to 15 percent of its income servicing debt, which is the threshold in developed countries for predicting a banking crisis, the Bank of Russia's research and forecasting department said in a September report. As the poor are growing more indebted, they are also more willing to put up with elevated borrowing costs. 
With subprime lending to high-risk borrowers built into banks' business models, monetary easing isn't trickling down to the consumer, according to the report.
"The high rates reflected in the banks' business model make credit unattractive to quality borrowers, as they are unwilling to pay for the banks' losses from loans to risky clients," analysts said in the regulator's report.
Confidence in the financial industry is already shaky after the authorities were forced to bail out two of the country's top five private lenders in recent weeks. The regulator has pulled one in three banking licenses since 2014. 
In spite of the purge, there are some signs that the industry is recovering. Alfa-Bank's shareholders are planning a new digital bank with a separate license to serve customers remotely, Vedomosti reported Wednesday, citing four unidentified people familiar with the plans.
Profits Up
Lenders that survived the recession are feeling better, earning more in the first eight months of the year than they did in all of 2016, according to central bank data. Their retail lending portfolios were up 7 percent in January to August, and grew every month since February, according to the regulator.
Microfinance, a lightly regulated industry that offers small loans at extremely high interest rates, is also booming, with the market reaching 142 billion rubles at the end of the second quarter, up 60 percent from a year earlier.
Still, Russian lenders remain plagued by bad debt, with the domestic rating company ACRA estimating that problem loans make up as much as 15 percent of their portfolio. Privately owned banks are the worst offenders, partly because of their more aggressive business models, according to ACRA analysts including Kirill Lukashuk.
Poor Prey
Grishina's research found that loan growth was fastest in regions with a higher concentration of poverty, suggesting an expansion of lending in regions that can least afford it. Over-leveraged regions also have a higher proportion of private banks, which are generally willing to hand out more risky loans, according to Alfa's Orlova.
To post continued growth, banks will remain dependent on lending to the poor, as a result of the shrinking middle class and 14 percent of the population below the poverty line. A survey published last month by the Russian Presidential Academy found that only a quarter of Russians see signs of improvement and 43 percent believe things are getting worse.
"Retail lending in Russia isn't driven by the middle class," Orlova said. "Demand is driven by poverty, with people borrowing to improve or maintain their living standards."
— With assistance by Anna Baraulina, and Olga Tanas
Before it's here, it's on the Bloomberg Terminal.
LEARN MORE