Oi's $19 Billion Bankruptcy Takes 'Worrisome' Turn as CFO Quits
By and
Anatel president says departure worsens already bad situation

Move comes as board, management said at odds over recovery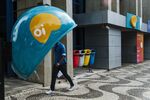 Oi SA's bankruptcy saga took a new twist this week as Chief Financial Officer Ricardo Malavazi Martins resigned, prompting a rebuke from Brazil's telecommunications regulator.
Juarez Quadros, president of the regulator known as Anatel, told reporters Tuesday the departure is "worrisome" and said it worsens an already bad situation for the phone giant mired in $19 billion of debt. Bloomberg reported last week that the government is weighing a potential takeover of the nation's biggest landline operator because the majority of Oi's board and management were at odds over a recovery plan.
"I find this an especially difficult situation as interests are very divergent and players involved can be complicated," said Carlos Gribel, the head of fixed income at private investment bank Andbanc Brokerage in Miami. "I don't rule out a government intervention."
Oi's management and Nelson Tanure, whose Societe Mondiale is the phone carrier's second-biggest shareholder, presented competing restructuring plans Sept. 27 at a board meeting, people familiar with the matter said last week. A majority of the board backed his proposal, but the executive team refused to sign on, creating an impasse, said the people. Any plan to be presented to creditors must bear the signatures of at least two executive statutory directors, they said.
It's been more than a year since Oi filed Brazil's biggest-ever bankruptcy case and the road to recovery has been plagued by disagreements and court battles involving bondholders, potential investors and the government, which is Oi's single biggest creditor. The fines that Oi owes Anatel have been a major roadblock to reaching a resolution.
Oi said in a statement on Monday that the board of directors appointed Carlos Augusto Machado Pereira de Almeida Brandao as the acting CFO while the company looks for a permanent replacement.
— With assistance by Fabiola Moura
Before it's here, it's on the Bloomberg Terminal.
LEARN MORE