May to Vow U.K. Housing Boost and Curbs on Energy Prices
By and
Prime minister tries to get derailed conference back on track

Housing plan would let local governments build more homes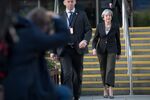 Follow @Brexit for all the latest news, and sign up to our daily Brexit Bulletin newsletter.
U.K. Prime Minister Theresa May will announce plans to build more social housing and curbs to energy prices in a bid to increase the appeal of her Conservatives to ordinary voters.
Still, her keynote party-conference speech was overshadowed by another gaffe by her foreign secretary, Boris Johnson. As May spent Wednesday morning finalizing her speech in the city of Manchester, the carefully pre-briefed messages about the need to end infighting and reach out to working people were blown away by her top diplomat's inability to stay out of the headlines.

Damian Green, the first secretary of state and May's closest political ally, spent a round of morning media interviews answering questions over Johnson's comments about needing to "clear away the dead bodies" in Libya, rather than pressing the premier's promise of a more inclusive and caring form of government.
"Everyone, including Boris, needs to be more careful in their use of language," Green said repeatedly in response to Johnson's remarks, which were made to laughter from delegates at a conference fringe meeting on Tuesday evening. The comments were described as "crass, poorly judged and wholly insensitive" by Tory lawmaker Sarah Wollaston, who said Johnson should consider resigning.
In her speech, May will unveil plans to make it easier for local-government bodies to build homes for rent, a major shift for the party of Margaret Thatcher, whose signature policy was to force local councils to sell off properties and massively expand the number of people who own their own homes.
Housing 'Rebirth'
As Tories have struggled to understand the result of June's election, which saw them unexpectedly lose their parliamentary majority, they have told each other they need to remake the case for capitalism and find ways to connect with young people. The housing policy is part of an attempt to achieve that goal, as would be another on limiting energy prices.
"We believe in building more homes, and we think we need to do this to meet demand of all types, including council housing," Green told BBC Radio 4. "The councils' concerns, the things that hold them back, will be part of the action," he said. "What we expect this to do is start a rebirth of council housing."
In the meantime, any action to cap domestic energy prices woulld have an impact on the so-called Big Six utilities and also show a willingness to borrow from the opposition's playbook.
May's team had intended to use the four-day Manchester meeting to focus on non-Brexit issues and explain to the country how she would improve people's lives after a decade of stagnating wages. Instead, it was dominated by discussion of Brexit policy, with the main auditorium mostly half-full, while activists packed fringe meetings to hear those supporting a more confrontational stance with the European Union.
Libya Comments
The prime minister repeatedly faced questions about whether her foreign secretary was undermining her by giving a weekend newspaper interview in which he ruled out Brexit options that she had deliberately left open. Only on Tuesday afternoon did he fall back into line and tell the conference that he backed her position. But there were only a few hours of respite before Johnson's Libya comments again stole the headlines.
"Beyond this hall, beyond the gossip pages of the newspapers, and beyond the streets, corridors and meeting rooms of Westminster, life continues -- the daily lives of ordinary working people go on," May will tell the conference in her closing address, according to extracts released by her office. "They must be our focus. Not worrying about our job security, but theirs. Not addressing our concerns, but the issues, the problems, the challenges that concern them."
Jeremy Corbyn's opposition Labour Party, which has pressed for more council housing, seems to have been more effective connecting with the public than May's Conservatives. While his conference last week in Brighton was upbeat, and he was triumphant, hers has seen her questioned repeatedly about how long she can survive, and who will replace her.
Lifting the Mood
While Johnson's speech on Monday expressed support for May, it also posed a challenge, demonstrating the foreign secretary's rarely matched ability to lift the mood of delegates. The prime minister struggled to engage voters in the election but will have to show that she can at least connect with her party now.
The premier's appearance will mark how far May has come since her address to the conference last year. Then she was their triumphant new leader, way ahead of Labour in the polls and in total control of her government. This year, for all the public statements of support and assertions that she'll lead the party into the next election, the reality is that she remains in place only as long as Tories want to keep her.
"It has never been my style to hide from a challenge, to shrink from a task, to retreat in the face of difficulty, to give up and turn away," May will say, acknowledging her reduced circumstances. "And it is when tested the most that we reach deep within ourselves and find that our capacity to rise to the challenge before us may well be limitless."
Before it's here, it's on the Bloomberg Terminal.
LEARN MORE