Laurene Powell Jobs Buys Into Parent of Basketball's Wizards
By
Monumental Sports is led by former AOL executive Ted Leonsis

Holdings include hockey's Capitals, Capital One Arena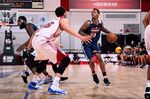 Billionaire philanthropist Laurene Powell Jobs is buying about a 20 percent stake in Monumental Sports & Entertainment, a holding company led by Ted Leonsis that includes the NBA's Washington Wizards, NHL's Capitals and the Capital One Arena.
The investment from Powell Jobs, founder and president of the Emerson Collective, is pending league approvals, according to a statement from Monumental, which didn't say how much she paid. Powell Jobs, who was part of a group that unsuccessfully bid on basketball's Los Angeles Clippers, will have the second-largest stake in Monumental behind Leonsis, a former senior executive at AOL.

"That someone of Laurene's impressive caliber is interested in coming into the ownership group further validates that Monumental Sports & Entertainment is continuing to build one of the most consequential, most valuable sports and entertainment companies in the world," Monumental said. 
Powell Jobs, 53, has a net worth of $17.8 billion, making her the world's 54th richest person, according to the Bloomberg Billionaires Index. With the investment, she becomes one of the most powerful women in professional sports, where the ownership ranks are dominated by men. Other female sports team owners include Jeanie Buss of the Los Angeles Lakers, Gail Miller of the Utah Jazz and Ann Walton Kroenke of the Denver Nuggets.
Apple Fortune
Much of Powell Jobs wealth comes from stock held in Apple Inc., which was co-founded by her late husband, Steve Jobs, who died six years ago.
Her investment comes at a time of ballooning franchise values in professional sports, largely driven by media rights. The Houston Rockets were recently sold for a record $2.2 billion, topping what former Microsoft Corp. Chief Executive Officer Steve Ballmer paid for the Clippers. Leonsis has said he wants to make Monumental, whose investments are largely in Washington, a more international brand.
Monumental also includes a WNBA team, a professional video-game venture and an Arena Football League club. The Wizards are valued at $1 billion, 18th in the 30-team NBA, according to the most recent calculations from Forbes, which says the Capitals are worth $575 million, ranking 10th.
The holding company's other investors include BET co-founder Sheila Johnson, Capital One Financial Corp. founder Richard Fairbank and real estate investor and Washington Nationals baseball team owner Mark Lerner.
Before it's here, it's on the Bloomberg Terminal.
LEARN MORE