Puigdemont Says Catalan Government to Apply Referendum Result
By and
Separatist leader spoke on television on Wednesday evening

Some companies are considering their presence in Catalonia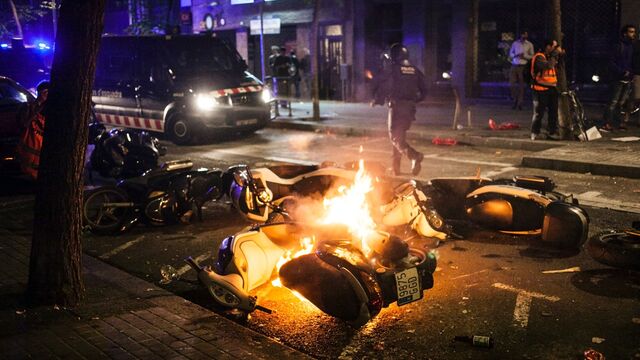 Catalan President Carles Puigdemont said the regional government will soon apply the results of its makeshift referendum, though stopped short of saying how or when he would trigger the process to leave Spain.
Speaking in a televised statement on Wednesday night, Puigdemont reiterated an offer for mediated talks. King Felipe VI on Tuesday joined Prime Minister Mariano Rajoy in condemning the vote, causing outrage among many Catalans. The European Union has backed Madrid in the biggest constitutional crisis since the 1970s.
"We will show our best face in coming days when our institutions apply the results of the referendum," Puigdemont said.
The regional leader, who spoke in Catalan and Spanish, attacked Rajoy for what he labeled as disastrous policies and said repeatedly that the king had missed an opportunity and disappointed Catalonians. The region, he said, is simply doing what many others have done in their quests for more recognition.

The prospect of secession by Catalonia, which accounts for a fifth of Spain's economic output, is piling pressure on Rajoy and his minority government. The premier has been seeking cross-party political support for his hard-line approach after police stormed makeshift polling stations and triggered mass demonstrations. The next move could involve suspending the regional government and implementing direct rule from Madrid.
"There is general consensus that the regional government of Catalonia has chosen to ignore the law when organizing the referendum held last Sunday," Frans Timmermans, first vice-president of the European Commission, told the European Parliament. "It's a duty for any government to uphold the rule of law, and this sometimes requires the proportionate use of force."
Spanish bonds and shares in Catalan banks sank on concern about the standoff, while a Barcelona-based drugmaker said it was uprooting to Madrid as other companies started making contingency plans for a protracted political conflict.
No Return
The clash between Madrid and the rebel administration in Barcelona heated up on Wednesday after the king, whose words traditionally carry weight in Spain, sought to impose his authority in a televised statement. He condemned the "unacceptable disloyalty" of the Catalan leaders and promised to keep Spain together.

Regional government spokesman Jordi Turull said the verbal attack, with no reference to the police violence that saw more than 800 people injured, had given a "free bar" to state forces as they try to shut down the secessionists. The king's reaction was "a mistake from every point of view," he said.
"It's clear to me that a point of no return has been reached and there's no road back to how things were before," said Caroline Gray, a lecturer in politics and Spanish at Aston University in the U.K.. "However things turn out, the relationship between Spain and Catalonia seems to have fundamentally changed."
The parties holding the majority of seats in the regional parliament, Junts pel Si and CUP, asked Puigdemont to address lawmakers on Monday, a spokesman for the assembly said. That could start a 48-hour countdown to a formal declaration of independence. Parliamentary speaker Carme Forcadell said on Twitter that Puigdemont will explain the referendum result and its consequences at a session starting at 10 a.m.
Read More: How Might Events Unfold in Catalonia?
Yields on Spanish 10-year bonds rose in each of the past three days, rising to as much as 1.80 percent on Wednesday. The premium over similar maturity German bonds reached the widest in more than five months. Shares in Oryzon Genomics SA soared as much as 33 percent after the company announced it's moving headquarters to Madrid. Catalan lender Banco Sabadell SA fell 4 percent.
Rubber Bullets
Rajoy is fighting to maintain control after Catalonia claimed 2.3 million voters defied both the central government and the Constitutional Court to cast ballots in the illegal referendum. Regional police ignored orders to shut down the vote on Sunday. 
The National Court in Madrid started investigating possible sedition charges against the Catalan police chief and three leaders of the civic groups that helped organize the vote.
In July, before the situation spiraled out of control, only 35 percent of Catalans thought their region should be independent, according to a regional government poll. But many moderates have been incensed by the scenes of police beating voters with batons and firing rubber bullets into crowds of protesters.
In Madrid, the main opposition Socialists are reluctant to share responsibility for any plan to push out the Catalan leadership after police were portrayed as bungling Sunday's crackdown.
— With assistance by Andrew J Barden, Esteban Duarte, Todd White, Thomas Gualtieri, Maria Tadeo, Katie Linsell, Ben Sills, Jones Hayden, and Richard Bravo
Before it's here, it's on the Bloomberg Terminal.
LEARN MORE