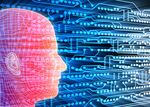 Apple Inc.'s decision to scrap fingerprint readers in favor of facial recognition technology for its iPhone X doesn't look like it will damp enthusiasm for the sensors.
That's good news for consumers and smartphone makers, considering more functionality equals a higher selling price. However, it's probably going to mean a bumpy road for suppliers, who have to translate that demand into earnings.
More than 70 percent of smartphones shipped next year will have a fingerprint sensor, according to Counterpoint Technology Market Research. That amounts to 1 billion devices and marks a huge leap from penetration of about 50 percent in 2016, figures from the data provider show.

As of the second quarter, all of Apple's iPhones had a fingerprint reader, while around 60 percent of models in Samsung Electronics Co.'s lineup had one of the biometric devices. Although those two firms account for 25 percent of all phones shipped with a sensor, it's Chinese brands such as Huawei, Oppo and Xiaomi that have spurred growth: Those manufacturers kit out about 80 percent of their models with such functionality.

This growth, however, won't result in any immediate benefit for major suppliers.
Shares in Sweden's Fingerprint Cards AB plunged 22 percent on Sept. 18 and a further 13 percent the following day after it warned that third-quarter revenue will be much lower than analysts' estimates. While Fingerprint Cards blamed Apple's new product launch, it also spoke of a drop in prices about 50 percent wider than the annual average.
Customers are switching to backside-mounted sensors that are a lot cheaper, the group said, although it added that overall, the introduction of low-cost sensors is positive since it enables an increased "attach rate ...and continued volume growth."
That red flag came just weeks after Synaptics Inc. sounded its own horn. The San Jose-based supplier in August announced a first-quarter revenue forecast that trailed estimates, sending its stock tumbling. While the chief culprit was weakness in shipments of touch display sensors, the fingerprint business also showed "softness," executives said during a conference call.

Synaptics outlined an expected technology lag over the coming 12 months that will see a lull in growth. OLED screens are becoming more popular, with the iPhone X just the latest model to feature them. Yet current technology doesn't allow sensors to read a fingerprint through the glass. The Wall Street Journal reported last week that Apple had attempted to build a sensor into its new OLED display, but couldn't make it work.  
On its conference call, Synaptics said it's working toward releasing optical sensors (the current ones are capacitive) that can be installed underneath OLED panels. Qualcomm Inc., a relatively new player in the business, also recently announced the release of an ultrasonic sensor that can see through OLED panels up to 1.2 mm thick, and trumpeted Chinese brand Vivo as its first customer.
With facial recognition capturing all the attention thanks to iPhone X, savvy investors would do well to keep one eye on the sensor market to see when fingerprint readers become cool -- and profitable -- again.
Before it's here, it's on the Bloomberg Terminal.
LEARN MORE