Kansai Electric Bellwether for Koike's `Party of Hope'
By
The Japanese company most dependent on nuclear power before the Fukushima disaster is one of the stocks most affected by the changing fortunes of Tokyo Governor Yuriko Koike's new party.
Kansai Electric Power Co. rose the most in six months on Tuesday as the market loses confidence that Koike's Party of Hope can win enough seats in this month's general election to pursue its policies, such as phasing out nuclear power by 2030, according to Tomoichiro Kubota, an analyst at Matsui Securities in Tokyo.
A poll by public broadcaster NHK published Monday showed that 5.4 percent of Japanese voters support the new party, while 31 percent support Prime Minister Shinzo Abe's Liberal Democratic Party. In an interview with the conservative Yomiuri newspaper, the former minister gave her strongest denial yet that she'd run for parliament.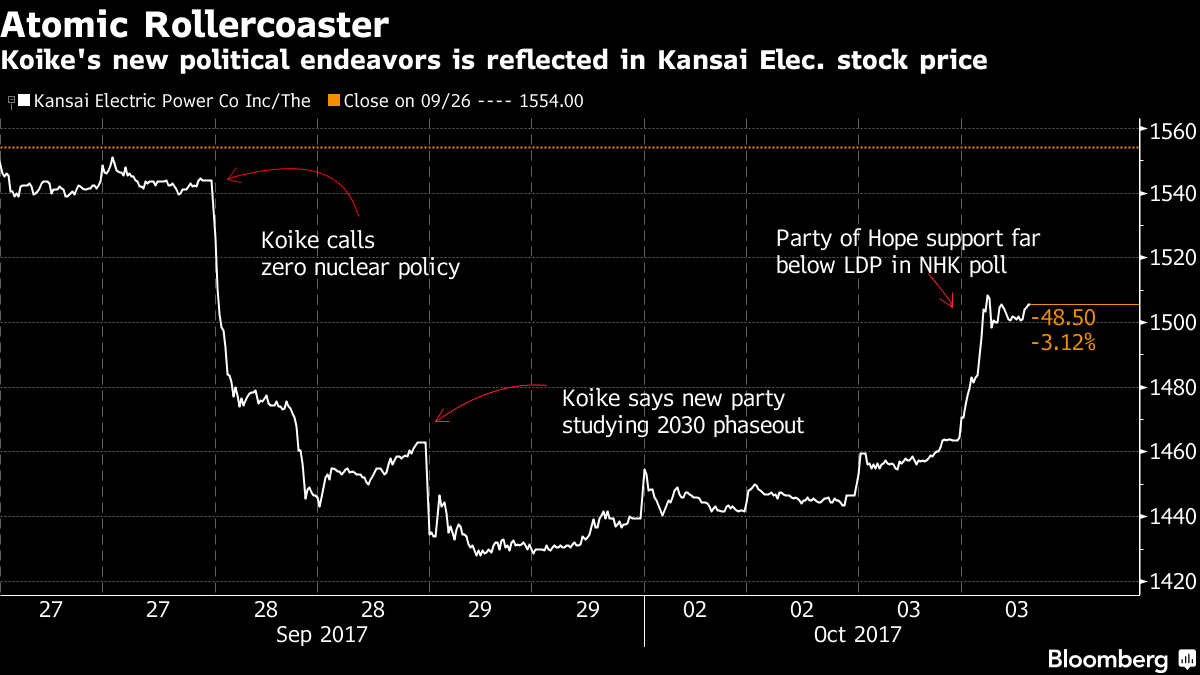 In contrast to the Party of Hope's "zero nuclear" policy, Abe's LDP is pushing for atomic power to make up 22 percent of Japan's electricity supply mix by 2030. While Japan's government aims to reduce the nation's dependence on nuclear power as much as it can after 2030, it isn't considering a policy to shut all atomic facilities, Trade Minister Hiroshige Seko said on Tuesday.
Kansai Electric rose 4.4% on Tuesday to 1,509.5 yen, the biggest gain since March 29. The Osaka-based company fell the most in a year last week after Koike announced her nuclear power policy.
Also in Kansai's favor are signs that nuclear reactor restarts appear to spark little interest for Japanese voters.
Just 7 percent of voters say a candidate's stance on nuclear policy would sway their voting intentions, compared with 30 percent who prioritize a candidate's views on social security and 18 percent concerned about economic policy, according to NHK.
"Despite solid majorities against nuclear restarts, the issue has fallen steadily down the list of priorities in public opinion polls," said Tobias Harris, a Japan analyst at Teneo Intelligence in Washington. "To Abe's credit, his approach to restarts -- go slow and pass the buck to regulators and local authorities -- has drained a lot of the passion out of the issue at the national level. People might not like the restarts, but they've been limited."
Before it's here, it's on the Bloomberg Terminal.
LEARN MORE