Johnson Falls Into Line Behind May
By , , and
Foreign secretary's public display of loyalty for U.K. premier

May being 'steadfast' in negotiations with EU, Johnson says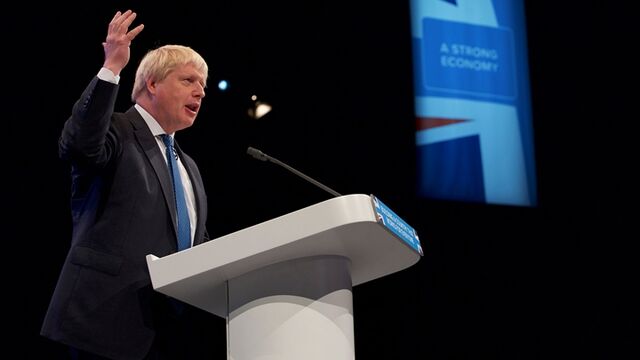 U.K. Foreign Secretary Boris Johnson fell into line behind Prime Minister Theresa May in a speech to the Conservative Party conference on Tuesday that unreservedly praised her handling of Brexit.
His public display of loyalty came after May's media blitz during the four-day gathering was dominated by questions about Johnson and whether she should fire him for failing to toe the party line and undermining her negotiations with the European Union.
Should May Stay or Should She Go? Tories Tepidly Back Their Boss
"The whole country owes her a debt for her steadfastness in taking Britain forward as she will to a great Brexit deal," Johnson told delegates in Manchester, England. "Based on that Florence speech on whose every syllable, I can tell you, the whole cabinet is united."
May's allies had earlier privately celebrated signs that Johnson was climbing down from his public questioning of her strategy.
Critics accused him of attempting to destabilize the embattled premier and win support from party members to replace her in her job after he wrote an essay spelling out his vision for Brexit and gave an interview in which he detailed four "red lines" that would need to be met to guarantee his support.
The foreign secretary's all-too-frequent forays into Brexit have frustrated colleagues who just wanted to get through the week without all the "psychodrama," as Scottish Tory leader Ruth Davidson put it.
The Boris Show
The speech by Johnson, a regular conference favorite with the party faithful, was characteristically peppered with jokes, and he urged delegates "to stop being negative and to start being positive about what we believe in." Defence Secretary Michael Fallon preceded the foreign secretary and poked fun at Johnson, but it was Johnson who brought the house down.
"It just changed the mood completely. It was so much more positive.," Adam Kent, 54, who runs a technology business in Birmingham, said after the speech. "He's told everybody 'pull yourselves together,' a lot of the others have been fairly flat."
Late on Monday night, Johnson had said he was behind "every comma, every full stop, every syllable of the prime minister's excellent Florence speech," and at cocktail-fueled parties, cabinet ministers loyal to May were pleased at how the latest chapter of the saga had played out.
Their interpretation was that the perennial contender had destabilized the party to such an extent that he'd thwarted his own chances of securing support among rank-and-file Tory lawmakers.
Blond Ambition
One cabinet minister, who declined to be identified speaking on private matters, said lawmakers are incandescent with rage over Johnson going off piste. Without their support, he cannot get through the early rounds of a leadership vote.
It's only in the final round when activists have their say. A second cabinet minister, asked about Johnson, dismissed his ambitions as an irrelevance, saying he'd missed his chance.
"People want us to focus not on our own jobs, but on their jobs and their futures,''  May told the BBC on Tuesday morning when asked why she hadn't fired Johnson. "I choose my cabinet, and you want to ensure that you have a range of voices sitting round the table because I think you make better decisions that way."
May is trying to make a virtue of her political weakness, arguing that her failure to discipline her top diplomat for his insubordination on Brexit reflects a willingness to have dissenting voices around her.
"Weak leadership is having a cabinet full of yes-men," she told ITV's "Good Morning Britain" program. "Strong leadership is about having a diverse range of voices around the cabinet table who then come together."
Since Brexit, British Politics Has Taken a Turn for the Radical
Among party faithful in Manchester, she has to carefully measure her words in an effort not to derail talks in Brussels or frustrate the anti-EU hardliners flocking to see their hero Jacob Rees-Mogg at packed fringe events.
To that end, she's tried to move the Conservative message off Brexit, an effort frustrated by Johnson's interventions. An aide to May, speaking anonymously at the conference, said his maneuvering was now priced in to the premier's calculations.
"The mood here very much has been among MPs and party members that they're pretty unimpressed with those ministers who want to set down their own red lines on Brexit," House of Commons Treasury Committee Chairwoman Nicky Morgan said on Tuesday in a Bloomberg Television interview when asked about Johnson.
Before it's here, it's on the Bloomberg Terminal.
LEARN MORE