House Conservative Wish List Includes Cutting Capital Gains Tax
By
Some caucus members also seek to keep state tax deduction

Sought-after items aren't in tax framework offered by GOP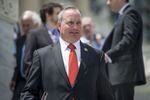 Some House conservatives are pushing Republican leaders for deeper tax cuts -- including one call for reducing the capital gains rate and eliminating an Obamacare levy -- measures that weren't included in the White House and GOP framework released last week.
"Why we are not talking about this in the Ways and Means Committee is beyond me," South Carolina Republican Jeff Duncan, a member of a large conservative caucus, told an audience at the Heritage Foundation, referring to the capital gains and Obamacare taxes. The top rate for long-term capital gains is currently 20 percent, plus a 3.8 percent net investment income surtax for individuals earning more than $200,000 or couples above $250,000.
Members of Duncan's group, the Republican Study Committee, have a tax wish list that includes allowing companies to immediately write off their capital expenditures on a permanent basis, keeping the state and local tax deduction for middle-income earners and protecting corporate interest deductions. The GOP tax framework calls for immediate expensing for at least five years, suggests repealing the state and local tax break and proposes limiting corporate interest deductions.
Members also generally want to end the so-called marriage penalty. On that score, the tax framework offers only a narrow change: It proposes new income limits for the child tax credit that it says "will make the credit available to more middle-income families and eliminate the marriage penalty in the existing credit."
Conservatives in general like the idea of a capital gains tax cut, but Representative Mark Walker of North Carolina, who chairs the RSC, needs to see details of the tax plan before he can endorse the idea, a GOP aide said.
Laffer Curve
The conservative caucus's demands signal that its version of a tax plan would cost even more than the $2 trillion the current framework is estimated to add to the deficit. Duncan held up a hand-drawn Laffer curve during the event, saying he has "no doubt" that the cuts would pay for themselves through growth. The Laffer curve is coined after influential supply-side economist Arthur Laffer.
The GOP tax plan also sets out individual rates of 12 percent, 25 percent and 35 percent, down from the existing seven rates, which top out at 39.6 percent, without specifying the brackets for each rate. Congressional tax-writing committees are given flexibility under the plan to add a fourth rate for the highest earners.
Walker said he didn't see the need for a fourth bracket for the top earners but added that it's not a red line for him.
Before it's here, it's on the Bloomberg Terminal.
LEARN MORE