Hammond Asks Businesses to Help Prove Need for Brexit Transition
By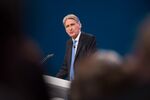 U.K. Chancellor of the Exchequer Philip Hammond asked businesses to help him convince more skeptical cabinet colleagues of the urgency of securing a Brexit transition deal by showing they're ready to invest as soon as agreement is reached on a period of adjustment.
The chancellor told British Chambers of Commerce Director-General Adam Marshall that while he understood businesses' need for clarity over Brexit, they should in turn do their bit to help him show that's precisely what is holding investment back.

Hammond called on companies in the U.K. to list the investments and improvements that had been deferred because of Brexit and that they're prepared to make once a deal is reached. Marshall repeated a call for a deal allowing the Brexit talks to move on to future trade arrangements by the end of this year.
"Businesses aren't investing and I understand why; it's because of the uncertainty," Hammond said at an event during the Conservative Party's annual conference in Manchester Tuesday. "Removing the uncertainty is, I think, the best incentive we can provide to business."
Hammond's comments underlined his push to ensure a post-EU deal with as little disruption for companies as possible amid differing visions for Brexit within Theresa May's government. While ministers this week have been at pains to show a united front over Brexit, the chancellor's remarks suggest the cabinet still remains split over how best to deliver it.
Before it's here, it's on the Bloomberg Terminal.
LEARN MORE