Fed's Powell Ducks Question on His Interest in Fed Chairmanship
By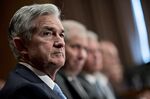 Federal Reserve Governor Jerome Powell deflected questions about his interest in succeeding Janet Yellen at the helm of the U.S. central bank when her term as chair expires on Feb. 3, 2018.
"Thank you for that question," he told the moderator at a Reuters Conversation on U.S. Financial Regulation in Washington on Tuesday after she inquired how his interview last week with President Donald Trump had gone, and whether he'd take the job if offered. "I've really got nothing on that for you today."
Trump interviewed Powell and former Fed governor Kevin Warsh last week in connection with the job and has also met with Yellen and White House economic adviser Gary Cohn, who are both in the running for the post, administration officials said. Politico reported earlier on Tuesday that Treasury Secretary Steven Mnuchin favors Powell for Fed chair and that Warsh was also a front-runner, citing unidentified people close to the selection process.
Before it's here, it's on the Bloomberg Terminal.
LEARN MORE