Disney CEO Iger Urges Empathy for National Anthem Protests
By
Says it's too early in season to assess NFL's TV ratings

Calls on policymakers to address mass shootings like Las Vegas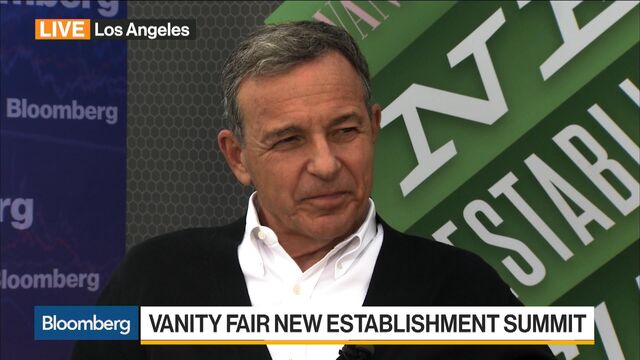 Walt Disney Co. Chief Executive Officer Bob Iger, whose company owns ESPN, defended athletes who kneel in protest during the national anthem and called on Americans to respect their rights.
While he personally prefers to stand for "The Star-Spangled Banner," "athletes feel they have an obligation to speak out on issues meaningful to them," Iger said Tuesday at a conference hosted by Vanity Fair. "We have to take into account what we're seeing societally. A little empathy in that regard would go a long way."
Former San Francisco 49ers quarterback Colin Kaepernick started the movement last season, taking a knee during the anthem to protest police brutality against minorities in the U.S. President Donald Trump has urged team owners to fire players who kneel and called on fans to boycott the National Football League.
ESPN has become a target of conservative critics who say its coverage leans to the left. Jemele Hill, a commentator for the network, drew a rebuke from the White House after she posted on Twitter that Trump is a white supremacist. ESPN later said Hill's comments didn't represent the network's views and called her actions inappropriate. Iger said Tuesday he was personally involved in the company's handling of the matter, without elaborating.
"We've not charged ESPN with being political. We certainly have not asked ESPN to express specific political opinions," Iger said. "Jemele Hill is an ESPN employee. She can't separate herself from that when she speaks publicly."
Iger said in an interview with Bloomberg TV that it was too early in the NFL season to assess audience ratings but acknowledged that "all content is facing more competition for consumers' time."
New Reality
"We are just living in a new world reality and we have to accept that," Iger said. "It doesn't mean it is not still among of the most popular things out there."
Disney shares fell 0.4 percent to $100.41 in New York trading. The stock is down about 3.5 percent since the start of the year.
Iger also commented on last weekend's massacre in Las Vegas, where a gunman killed at least 59 and injured hundreds. A Disney employee died in the shooting, with Iger acknowledging the death of Carrie Barnette in a Twitter posting Monday. He said Tuesday three employees had been shot.
"This is a huge crisis for our country," he said at the Vanity Fair conference, adding later on Bloomberg TV, "We should be outraged by the lack of a productive dialogue."
— With assistance by Emily Chang
Before it's here, it's on the Bloomberg Terminal.
LEARN MORE