Bank of Canada Deputy Sees New Firm Creation Boosting Growth
By and
Deputy governor says productivity has increased significantly

Acceleration in new firms may mean subdued inflation: Leduc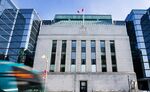 Canada's economy will continue to expand at an above-potential pace, but may be entering a "virtuous circle of growth" that could delay the onset of inflationary pressures, a key central bank official said.
Bank of Canada Deputy Governor Sylvain Leduc said recent encouraging signs include a significant increase in productivity since mid-2016, and an economy that should continue to grow at a rate that will absorb excess capacity over the next few quarters. Another positive signal, an increase in the number of firms entering the economy, may mean inflation pressures are more subdued than normal, because the new firms create room for the economy to grow, he said.
"The economy's growth rate is expected to decline over the next few quarters, but it should still exceed that of potential output," Leduc said Tuesday in Sherbrooke, Quebec. "We therefore expect an increase in entry rates and a decline in business exits over the coming quarters. Moreover, the contribution of new firms to increasing the productive capacity of the economy could give rise to a virtuous circle of growth."
The comments are consistent with expectations the Bank of Canada will continue to normalize rates over the next couple of years, but at a gradual pace to avoid undermining the recovery. Derek Holt, an economist in Toronto at Bank of Nova Scotia, said Leduc's comments leave the door open for policy makers to adjust potential growth-rate estimates at their Oct. 25 meeting.
Such an adjustment would signal monetary-policy tightening "at a more measured and gradual pace" than would otherwise have been the case, Holt wrote in a note to clients.
Investors are pricing in at least two rate increases over the next 12 months, judging by forward-implied rate.
Leduc said over the past several decades, Canada's economy has become less dynamic because of a surprising and sustained decline in the creation of new companies. Though there are signals that things are improving.
A sharp depreciation in the Canadian dollar during the oil shock that started in 2014 may have accelerated the creation of fast-growing companies known as "gazelles" by boosting access to export markets, Leduc said.
Loss of Dynamism
The entry rate of new companies into Canada's economy has dropped by about half from the 24 percent mark recorded in the early 1980s, Leduc said. That's steeper than a decline in the exit rate of companies and "simply put, the data seem to point to a loss of dynamism in the Canadian economy."
The economy's growth rate will slow in coming quarters while remaining faster than potential output growth, he said
Governor Stephen Poloz has highlighted so-called firm creation rates as an important indicator of the recovery. Leduc said Tuesday he expects the rate of firm creation to pick up as the economy progresses, while the rate of firm exits should decline.
The Bank of Canada has raised rates twice this year after the economy emerged from the worst effects of the oil price collapse, and as spare capacity disappears.
Leduc said Canada's move to open up free trade with the European Union and a deal for freer trade between provinces could help new companies grow by tapping into bigger markets.
— With assistance by Luke Kawa
Before it's here, it's on the Bloomberg Terminal.
LEARN MORE