Boris Johnson Rebuked for Comment on 'Dead Bodies' in Libya
By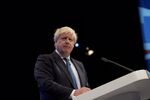 After swearing his allegiance to Prime Minister Theresa May, U.K. Foreign Secretary Boris Johnson may have committed yet another gaffe.
The top diplomat who had openly defied his boss on Brexit in the lead-up to the Conservative Party conference, put on a display of loyalty to May in a speech to party faithful. He went on to make his blunder in a later meeting with Tory activists at a fringe event in Manchester, England.
"I look at Libya, it's an incredible country," said Johnson on Tuesday to an audience of about 450 Tories. He went on to praise the port city of Sirte, which he said could become the next Dubai. "The only thing they have got to do is clear the dead bodies away."
Criticism from the opposition took a few hours. Labour's foreign-policy spokeswoman, Emily Thornberry, called the comments "unbelievable, this is beyond buffoonery, it is a disgrace."
Before it's here, it's on the Bloomberg Terminal.
LEARN MORE