BOE Sees 'Substantial' Brexit Threat to Derivatives Clearing
By
Relocation option might not be available in all markets

Some European firms not focused on threat to wholesale banking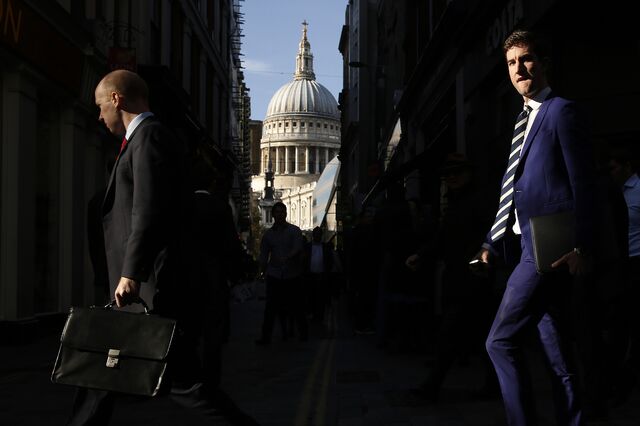 The U.K.'s withdrawal from the European Union poses a "substantial risk of disruption" to cross-border clearing of financial contracts, according to the Bank of England.
The European Commission, the EU's executive arm, has proposed supervision rules that could force foreign clearinghouses to locate the clearing of derivatives denominated in EU currencies inside the bloc.
In response, some clearinghouses are looking at contingency plans, including moving some activities from the U.K. after Brexit, the BOE said on Tuesday. This option isn't available in all markets, "for example where the complexity and cost of any migration was significant," the central bank said in its report of the Financial Policy Committee's Sept. 20 meeting.
"So there remained a substantial risk of disruption of cross-border clearing activity," the BOE said. "The bank was continuing to engage financial market infrastructure and firms on their contingency planning."
Global banks are preparing for the worst -- that the City of London will be stripped of the ability to clear euro denominated swaps after Brexit -- and have already started the process of moving employees and operations central to the clearing function to the continent. Deutsche Bank AG Chief Executive Officer John Cryan told employees recently he was girding for a hard Brexit, where the "vast majority" of trades currently booked in London probably move to Frankfurt.
The BOE said a number of European firms operating in the U.K. were "not sufficiently focused" on addressing the Brexit risk of disruption to wholesale-banking services. These branches account for about 10 percent of lending to U.K. companies, it said.
The FPC published previously deferred comments on the financial stability risk from market reliance on the Libor benchmark rate, following progress in addressing the problem. Records of its March and June meetings have been updated to include the material.
The committee had previously decided that publication of its Libor concerns "was against the public interest, because there was a possibility that publication could precipitate the risks that the action under way was seeking to avoid."
— With assistance by Gavin Finch
Before it's here, it's on the Bloomberg Terminal.
LEARN MORE