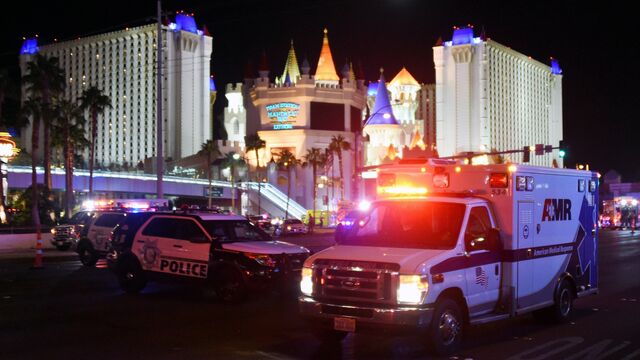 Want to receive this post in your inbox every afternoon? Sign up here.
A crowd of more than 22,000. Some 515 injured. At least 58 dead. The list of America's worst mass shootings grows one longer with the most harrowing superlative. —Megan Hess
The Las Vegas death toll rose to at least 58. The gunman unleashed a hail of bullets on concertgoers from the 32nd floor of a hotel-casino, also wounding at least 515 others on Sunday night. SWAT teams stormed the gunman's hotel room where he died either by police gunfire or a self-inflicted wound. Meanwhile, links to a website commonly used by the far-right falsely identified the shooter as a leftist and called him a Democrat. Despite being debunked, the fake story made it to the top of Google search results. On Wall Street, the horror drove an all-too-predictable gun stock rally.
Facebook is hiring more than 1,000 people to review its ads in the wake of the criminal investigation into the extent of Russian meddling in the 2016 U.S. presidential election. The company also introduced several updates to the ad-buying process, including tighter restrictions on content and improved rules to force advertisers to demonstrate their authenticity before they can make purchases.
Equifax collected salary details for people at 7,100 companies. Even after the credit-reporting firm failed to prevent hackers from tapping a separate trove of information on 143 million Americans, employers probably won't stop feeding it updates, because they rely so much on analytics that Equifax provides.
Where coal is still alive and well. Colombia continues to bet on coal, even while global demand tapers off as the world switches to cleaner fuels. The country is set to produce a record of more than 90 million tons of the fossil fuel this year, its biggest export after oil. Take a look inside one of the coal mining towns there.
Goldman Sachs is exploring how it could help clients trade bitcoin and other digital currencies. The bank is in talks with cryptocurrency experts but hasn't yet formulated a business plan or a timetable for implementation. Its approach is quite different from that of JPMorgan CEO Jamie Dimon, who said last month that bitcoin is a fraud and that he would fire any employee trading it for being "stupid."
Rich men with extreme politics have the happiest marriages. The quality of American marriages has dropped significantly since the early 1970s, according to an analysis of General Social Society data. Yet more men than women say they're happy with their marriages, and religiosity appears to play a role. "It's possible that the people with more extreme political views are more likely to have a spouse who agrees with them," says University of Maryland sociology professor Philip Cohen.
A rooftop pool is coming to the heart of JFK Airport. The 505-room TWA Hotel is slated to open in roughly 18 months, and new renderings and design plans reveal a restaurant inside a refurbished TWA jet—which dates to 1962, like the terminal itself—and a rooftop pool for harried travelers.
Before it's here, it's on the Bloomberg Terminal.
LEARN MORE