Wall Street Has a Secret Wish for Nafta Talks
By
Mexican investor anxiety drops to lowest level since July 2015

No renegotiation is 'not a bad outcome,' BlackRock says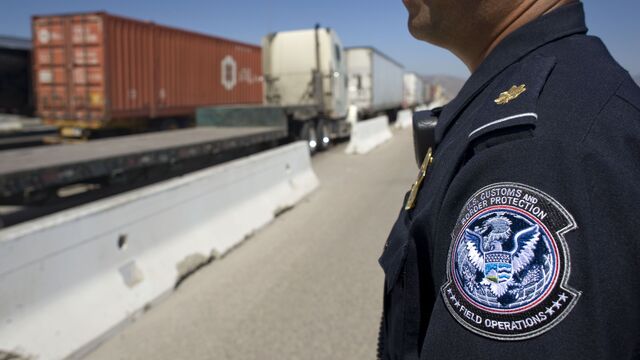 Months of high-level meetings from Mexico City to Washington to Ottawa may be for naught as the Trump administration pushes for ground on contentious issues that Canadian and Mexican negotiators are reluctant to cede.
That's not necessarily unwelcome news on Wall Street. Investor anxiety in Mexico, as measured by the peso's three-month implied volatility, declined the most of any developing nation during the third quarter as the United States's insistence on reducing its trade deficit risks scuttling the talks.
"Nafta probably won't be renegotiated after all," said Gerardo Rodriguez, a money manager at BlackRock, who expects Mexican assets to outperform in the fourth quarter. "That's not a bad outcome. It's one way for risks to go away."
Even if the North American nations reach a deal, each country must then present the package to its congress, which could present its own complications. If negotiations falter, Mexico's presidential elections next July will move to the fore of investors' minds, according to Rodriguez, Mexico's former deputy finance minister. The next round of talks begins Oct. 11 in Washington.
Efforts to modernize the trade pact are "just a smoke screen," said Waleed Shoukry, an emerging-market portfolio manager for the United Nations's JS Pension Fund, who's "very overweight" local Mexican debt. "It is only political posturing from Trump, which will and already has dissipated."

The election presents its own risks as leftist former Mexico City Mayor Andres Manuel Lopez Obrador leads most early polls, although his weight on the market may not be fully felt until next year.
Daniel Kerner, Eurasia Group's head of Latin America, says in note:
Major earthquakes in Mexico "will likely increase anti-establishment sentiment" amid already high levels of social discontent
Expects Mexico City Governor Miguel Angel Mancera and ruling party to suffer biggest blow
Says MORENA's Lopez Obrador is "more clearly set to benefit" from increased anger with political crisis
Still, most of discontent likely to be concentrated in historically anti-PRI Mexico City, making impact potentially less significant
Nomura analysts Benito Berber, Joao Pedro Ribeiro and Mario Castro say:
Prospect of Lopez Obrador win, which they estimate at 40%-55%, will probably increase market volatility as election approaches
Market will probably start pricing in presidential vote uncertainty in February, since liquid FX markets historically react about 5 months pre-election when "market-risk" candidate seen as competitive or favorite
Before it's here, it's on the Bloomberg Terminal.
LEARN MORE