Uber's New CEO Flies to London to Fight One of Many Fires
By and
The gig economy case is being closely watched around the world

Dara Khosrowshahi meets Tuesday with transport authorities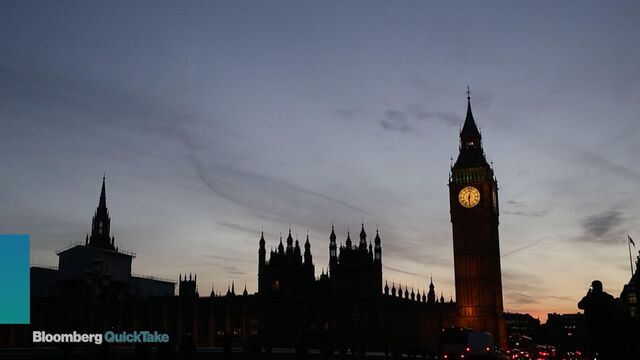 When Uber's new chief executive officer touches down in London, he'll find an irate regulator, divided drivers, galvanized rivals, and a key regional manager who's just announced her exit.
Dara Khosrowshahi will be in the U.K. capital for an emergency meeting Tuesday with transportation authorities to try to salvage the company's business in its largest European market.
Khosrowshahi's arrival is a sign of the potential harm the London ban would have on the company's business. He's sticking to the meeting even as he's also entangled in a boardroom battle in San Francisco with former CEO and co-founder Travis Kalanick. The board is scheduled to vote Tuesday on a large stock sale to SoftBank Group Corp. and governance rules that would diminish Kalanick's clout.
Less than two months into the job, Khosrowshahi's challenges spread from management to drivers. On Monday, the manager in charge of the U.K. and Northern Europe, Jo Bertram, said she was stepping down after four years at the company. Bertram, who was instrumental in building Uber's business in London, said her departure isn't related to the licensing and that she's taking a new job outside Uber.  
Spokesmen for Uber and Transport for London declined to comment on the details of the meeting.
London Protests
Meanwhile, drivers in London are divided about whether to support or protest against Uber. Last week, Uber drivers were among those gathered outside a U.K. employment tribunal to criticize the San Francisco-based company for poor pay and lack of benefits, arguing the company unfairly classifies drivers as contractors rather than employees to save money and skirt legal liabilities. The judges are deciding whether Uber needs to classify drivers as workers entitled to more benefits, a potentially significant shift for Uber's business.
Yet drivers are also criticizing London transportation regulators who revoked Uber's license, a move that could take thousands of drivers off the road – about 40,000 in the city, according to Uber. The drivers feel sidelined in London's fast-moving debate about how to regulate the so-called gig economy, and stifled by a lack of alternative employment.
"Drivers are facing financial ruin," said James Farrar, an Uber driver who is a co-claimant in the employment-rights case against the company. He said regulators deserve blame for not adequately taking drivers into account during its ruling. "Forty thousand jobs in any other sector, we'd have a couple of government ministers parachuting in right now."
Hire Industry
Uber has a tight grip on London's private-hire industry. An ORB poll, commissioned by Uber, published figures last week that purported that four in five private-hired drivers say Uber is their main source of income.

The potential ban on Uber has spurred its few rivals. "We have long questioned whether Uber has been operating within the letter and the spirit of regulation in London," said Andy Batty, U.K. general manager at Daimler-owned Mytaxi, which connects users with traditional taxis and black cabs.
Taxify OU, an Estonian ride-sharing app backed by Chinese giant Didi Chuxing, is also hoping to relaunch in London. The company was suspended in the city last month, a week after starting, when the transport authority raised questions about how it obtained its license.
"Hopefully we can now launch in the next few weeks," said Markus Villig, founder of Taxify. "London is monopolized by Uber. Really bad conditions for years. We've now got 10,000 drivers on the waiting list." Villig said he saw no need to market heavily in order to pry away Uber drivers.
"The biggest difference between us and Uber is earnings," Villig said. Taxify takes a 15 percent commission on each trip, allowing it to funnel more pay to drivers, he said. Uber's commission rates are 20 percent to 25 percent.
Political Challenge 
The battle in London has acquired a political edge. London Mayor Sadiq Khan, a Labour politician, supports the regulator's decision, while U.K. Prime Minister and Conservative Party leader Theresa May has said the city's plan threatened jobs and is "disproportionate."
Farrar, the Uber driver, said transportation authorities are missing an opportunity to require Uber to add more worker protections, such as minimum pay and vacation time. Instead, the city is taking the overly aggressive step of proposing a ban that puts drivers at risk of losing work, as well as being left in debt because of leases on cars that can't be paid off.
Khan said drivers should take their complaints to Uber, not the government. "The Mayor has every sympathy for Uber drivers affected by the decision, but their anger should be directed towards Uber, who have let down their drivers and customers by failing, in the view of TfL, to act as a fit and proper operator," a spokesman for the mayor said in a statement, referring to Transportation for London, the regulator. "All companies in London must play by the rules and adhere to the high standards we expect."
In the U.K., an estimated 1.3 million people work in the gig economy, jobs that are mostly based on short-term contracts or freelance contracts. The Uber debate is being closely watched because of influence it may have on other governments around the world who are trying to implement new policies for the sector. The European Union has also been debating policy measures to better protect workers.
"Workers tend to be the most vulnerable to harm," said Mark Graham, a professor at the University of Oxford who has studied the gig economy. "They have no job security, and all it takes is a market downturn, a new competitor, or new regulations to be financially disastrous."
Quotes from this Article
Before it's here, it's on the Bloomberg Terminal.
LEARN MORE