Spanish Bank Stocks Dragged Lower by Catalan Independence Battle
By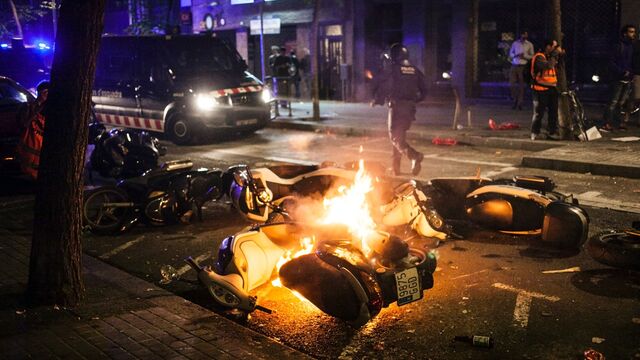 Catalan banks posted the biggest declines among European lenders after the violence surrounding the region's independence vote.
Banco Sabadell SA and CaixaBank SA, both based in Catalonia, saw their shares fall by the most this year, with lenders elsewhere in Spain such as Banco Santander SA and Banco Bilbao Vizcaya Argentaria SA following them lower. Other companies based in the region -- including Gas Natural SDG SA and Fomento de Construcciones y Contratas SA -- also dropped.
As the political crisis worsened, investors' focus fell on banks, which are arguably most vulnerable to an economic collapse in Catalonia, which accounts for about a fifth of Spain's economy. Separatist leaders signaled they may be moving toward a unilateral declaration of independence as early as this week after hundreds of activists were injured Sunday as they sought to stop Spanish police from shutting down the referendum.
"The biggest concern is for banks headquartered in Catalonia and seen as having the greatest sensitivity to the regional economy," said Roger Francis, an analyst at Mizuho International Plc in London.
Sabadell tumbled as much as 6.6 percent and was down 4.5 percent as of the market close in Madrid, the biggest decline in the Euro Stoxx Banks index. CaixaBank posted the second-biggest drop at 4 percent.
Reassuring Investors
Sabadell declined to comment on its plans concerning potential independence. The bank has said in the past it will take whatever measures are necessary to keep operating normally in the euro system and that it would guarantee the interests of its shareholders, clients and employees. CaixaBank didn't immediately respond to a request for comment.
Spanish Economy Minister Luis de Guindos sought to reassure investors about the creditworthiness of the region's lenders.
Speaking to reporters in Rome, de Guindos said the Catalan banks "are very solvent, healthy and I am sure they will overcome these short-term difficulties," adding that euro-region integration is the key to resisting populism.
Yet Bloomberg Intelligence analyst Arjun Bowry warned that the cost of funding in wholesale markets could rise for banks, particularly Sabadell and CaixaBank, if Catalonia gained independence.
Before it's here, it's on the Bloomberg Terminal.
LEARN MORE